High wind resistant roofing materials for sloped roofs
If you're shopping around for high wind resistant roofing materials for your house or small office, consider the following options. Although asphalt shingles are the most common roofing material, they are not the only material available.
Why is a high wind resistant roof important?
High winds are common along the Colorado Front Range, especially in the Spring and Fall. According to the Washington Post, in 2018 wind gusts between 50 and 90 mph were recorded along the Colorado Front Range.
Not only can strong winds tear and remove roofing material, they can also launch that roofing material, or other debris, such as tree branches and patio furniture, into the air and potentially cause damage to property or injury to you, your family, or neighbors.
High wind resistant roofs can withstand stronger winds. They are also generally more impact resistant, so they have a lesser chance of becoming damaged or torn apart from strong winds.
How to choose a high wind resistant roofing material
We understand that choosing a high wind resistant roofing material is probably not your first concern. Your first concern is probably cost or choosing a similar material to what you're about to replace or what your neighbors have. Regardless of whether you choose asphalt shingles, stone coated metal shingles, concealed or exposed fastener metal, or tile, there's a high wind resistant option available to you.
Asphalt Shingles
Several shingle manufacturers offers high wind resistant roofing products, such as Owens Corning's Duration Storm and GAF's Timberline HDZ. Shingles such as these offer high wind warranties up to 130mph. When shopping for high wind resistant shingles, make sure the product says it withstands winds of at least 110mph. Your roofing contractor can help. The Owens Corning website makes it very easy to view high wind resistant shingle options. On their website, just check the 130 mph Wind Resistance checkbox.
Price:
Asphalt shingles are the least expensive. For an average 2500 sf roof using mid-grade shingles, expect $3.40/sf.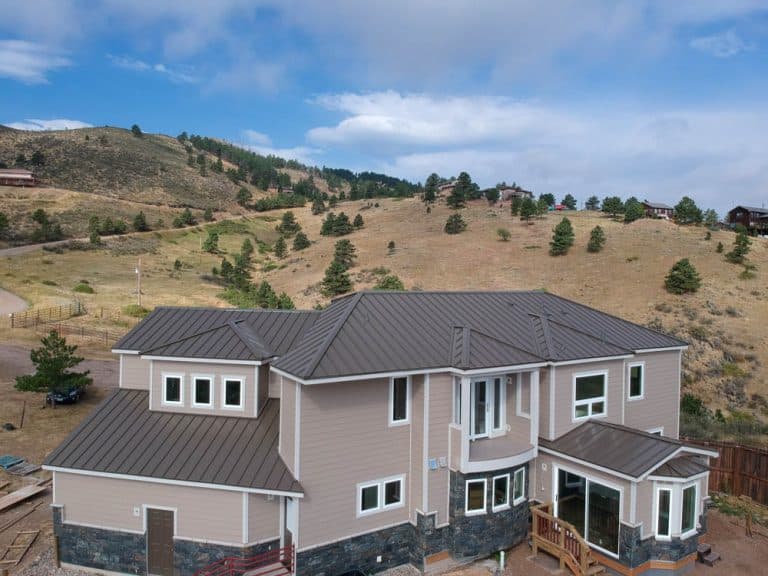 Metal
When you think of metal roofing, you might think of the 2′ x 8′ sheets of corrugated sheet metal on barns. Although 2′ x 8′ sheets is one option, today, there are other options available. Boral Roofing, for example, offers a metal roofing product that resembles asphalt shingles. Their stone-coated steel roofing option is tested to resist wind speeds in excess of 120mph. Added benefits to metal roofing is that most are Class-4 hail impact resistant, fire rated, and 100% recyclable.
Because traditional metal roofing, such as concealed and exposed metal fastener metal roofing, is installed in large sheets, there are fewer edges for wind to get under. As a result, metal roofing is a great high wind resistant roofing material for sloped roofs.
Price:
Using our 2500 sf. roof example, you're looking at around $9.50/sf. for metal.
As a side note, a metal roof also offers better resistance to wind damage 🙂
Tile
Clay and concrete tiles, and slate are heavy, which is why they are good in high winds. They must be properly installed, however. If installed improperly, and with a strong enough wind, clay and concrete tiles can still be blown off. And if they are blown off, they are a serious threat, again, because of their weight. If tiles are what you're looking for, Boral Roofing has a collection of Class-4 hail rated profiles available. These concrete tiles are also Class-A fire rated.
Price:
Tile is a significant investment, and the most expensive of our high wind resistant roofing materials. $11/sf. for that same 2500 sf roof.
How to spot high wind resistant roofing materials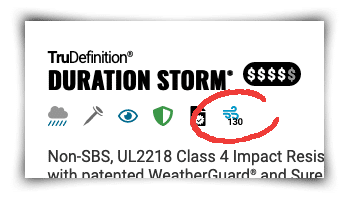 Unfortunately, quickly spotting a high-wind resistant roofing material isn't always easy. Some companies make it easy by displaying an icon that denotes a high-wind resistant roofing material. For example, Owens Corning's website has a little icon that does just that. What's more, on their website, you can also choose to only show high-wind resistant shingles by checking the appropriate checkbox. However, some websites aren't as easy to use as Owens Corning's. On most, you just have to click on each shingle and read the copy.
Summary
Asphalt shingles aren't the only high wind resistant roofing product. Although metal is more expensive, it should be seriously considered. Especially if you want that classic Colorado look 🙂 If you're having a hard time finding a high wind resistant shingle, tile, metal, or stone-coated metal roofing material, feel free to ask us for help.