A new PVC roof installation for your Colorado business has several benefits. PVC roofs are energy efficient, very durable, fire and grease resistant, comes in a variety of colors, and lasts around 20 years.
Hiring Bob Behrends Roofing to install your new PVC roof, also has advantages. We have over 30 years commercial roofing experience and we offer a 5-year workmanship quarantee. Permits are always pulled and we have a dedicated single membrane roofing crew. What's more, we are fully licensed and insured.
Bob Behrends Roofing is also a qualified installer of Versico, Mulehide, GenFlex, John Mansville and IB Roof Systems allowing us to offer 10, 15 and 20-year labor and material warranties on commercial and residential jobs.
When you're ready for a new PVC roof, contact us for a free estimate.
Commercial Roofing Services
Contact us today for a free estimate!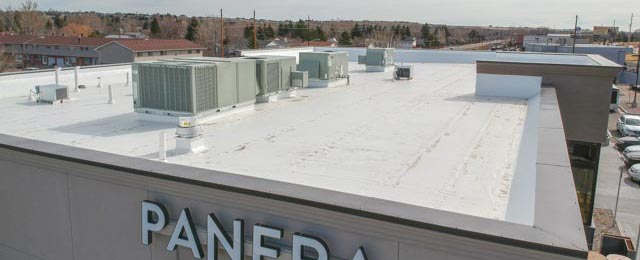 When shopping for a new PVC roof, there are several points to consider. First of all, not all PVC roofing manufacturers are the same. We only work with the above mentioned because of their excellent products, service, and warranties. They make great commercial roofing products and they stand behind them with great customer service and warranties.
What's more, they've all been around the block. Mule-Hide, for example, has been making roofing products for over 100 years. Needless to say, they know what they're doing and they make excellent single-membrane roofing products.
PVC roof cost
As a business owner or commercial building contractor, we know cost is important to you. The average cost for PVC roof installation in Colorado is about $8.50/sqft. This cost can vary depending upon a variety of factors, such as the complexity and condition of the existing roof, the exact PVC product installed, among other things. Contact us to discuss your specific situation and for a free estimate.
We utilize popular estimating software in order to keep up-to-date with current industry pricing. This also allows us to produce accurate bids. We also utilize state-of-the-art plan takeoff software in order to provide fast and accurate turn-arounds on new construction projects.
PVC options, features
Today, there are more PVC roofing options available then ever before. IB Roof Systems, for example, offers PVC membranes in 8 different colors, including white, tan, brown, red, grey, and green. Depending upon the manufacturer, there are either 20 or 30 year warranties available. Most PVC manufacturers offer membranes in 50, 60, and 80 mil thicknesses. Widths range from 3' to 10' with lengths ranging from 60' to 90'.
Note: The term "mil" is not an abbreviation of millimeter, but its own unit of measure. 1 mil is equal to .001 inches or .0254 millimeter. 50 mil = .05". 60 mil = .06" (1/16"). 80 mil = .08".
If properly installed, all pvc roofing products offer fire, wind, and chemical resistance, holds-up to standing water, and is energy efficient. Aside from your standard PVC membrane, which is already a great product, there's fleece-backed PVC, which is more resistant to tears and punctures. Polyester-reinforced PVC roofing membranes add more stability. Fiberglass-reinforced PVC also adds stability and is best in areas that experience extreme temperature fluctuations. PVC with KEE (Ketone Ethylene Ester) makes the roofing membrane tougher, more durable and more flexible, still.
Of these, we offer standard PVC and fleece-backed PVC.
New PVC roof installation in Colorado
To ensure you get the most out of your new PVC roof, and to make sure it lasts as long as possible, a proper installation is important. A poorly installed roof of any kind or quality level can allow water leaks, can blow away, tear, puncture, etc. Finding a good commercial roofing company that will install your new PVC roof properly is easy. Just ask who they get their membranes from, then ask that manufacturer if that roofing company is eligible to apply for a warranty. If they are, that means that roofing company knows how to install your new roof correctly. If that roofing company is not eligible to apply for a warranty from the roofing membrane manufacturer, find a different commercial roofing company.
New restaurant roof
If you need a new restaurant roof in Colorado, a PVC roof installation is your only choice since it is the only flat roof product that's resistant to grease, animal fats, oils, and fire. (Did you know a PVC roof will self-extinguish once the source or fuel of the fire is gone?) That said, you have several PVC options, between colors, reinforced backing, and ballast (weighted-down with rocks).
If your new roof won't be visible from the street, maybe you aren't concerned about appearance. However, you're probably concerned about your electric bill. A light color, such as white, light grey, or tan will help lower your utility bill during the Summer, since those lighter colors will reflect heat away from your building. A dark color, such as black or dark grey, will absorb heat and help drive your cooling cost up, especially during the Summer months.
However, a dark-colored roof will help warm-up your building during the cold Winter months. Here in Northern Colorado, we have more warm months than cold, so a lighter colored roof is often recommended.
Although PVC is already a strong roofing product, a reinforced PVC roof membrane, such as with polyester, is stronger, still. Also, PVC KEE HP has an improved chemical resistance compared to standard PVC, which makes it a great solution for restaurant roofing in Colorado.
---
When you're ready for your new PVC roof, contact us for a free inspection and/or estimate. We have dedicated roofing inspectors, and a dedicated sales team ready to answer any questions you might have and to take your order. We use popular estimating software in order to keep up-to-date with current industry pricing and to produce accurate bids.
We stand behind our work with our own 5-year workmanship warranty, and our PVC manufacturers backup our work with a warranty of their own. They warranty their products that we install because they trust us to install it correctly, and so can you! A professionally and correctly installed roof ensures you get most out of your investment.
We are qualified installers of Versico, Mulehide, Johns Manville and IB Roof Systems. These are proven PVC roofing manufacturers that stand-out in the industry. Although Versico is relatively new, they have quickly grown to be one of the largest single-ply roofing system manufacturers in the U.S. Mulehide is one of the most trusted names in low-slope roofing in both the U.S. and Canada since 1985. Based in Denver, Johns Manville has been committed to manufacturing premium-quality commercial roofing such, as PVC, for over 150 years. IB Roof Systems has PVC roofs that were installed in the 1970's and are still performing well today. Being qualified installers of the above manufacturers allows us to offer 10, 15 and 20-year labor and material warranties on commercial jobs.
We are fully licensed and insured. This means we are a legitimate commercial roofing contractor, and should any of your property be damaged by us during the installation of your roof, you will be compensated.
Being a large commercial roofing contractor, we often buy in bulk. This translates to competitive prices for you.