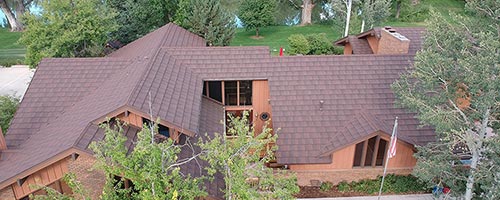 A roofing company you can trust.
Because we are a family-owned and operated Colorado roofing company, we believe in values such as honesty and pride.
That's why we don't ask for any payment until you're completely satisfied.
When we're done with your roof, our Colorado roofing company will inspect it again to make sure it's done right and you're happy. Only then will we ask for payment.
As the homeowner, you can also rest easy knowing that our work comes with a 5-year workmanship guarantee. (Read more about our workmanship guarantee.)
---
Why choose us as your residential roofing company?
5-Year workmanship guarantee
No Payments until you're satisfied
Proven track record. Read our reviews.
---
Customer Testimonial
"Very awesome customer service every step of the way. I shopped around a little but nobody gave the quality of service that Bob Behrends did! I will definitely recommend them to anyone I know and the roof and gutters came out great!"
Residential Roof Installation and Repair
Whether you need a new roof installed on a new house, or you need your existing roof replaced, we can help. We offer all major residential roofing materials including asphalt shingles, metal and tile.
Unsure which to choose?
Visit our Residential Roofing Guide for help. We have installed hundreds of residential roofs along the Colorado Front Range.
Check out our residential roofing project gallery to see just a few of the hundreds of roofing projects we've completed over the years.
Steep sloped roof materials:
Low-sloped/flat roof materials:
---
Asphalt Shingles
Asphalt shingles are the most popular residential roofing material used today. Asphalt shingles are also known as simply 'roof shingles', or composite or composition shingles. They're economical, yet durable and can fit a range of budgets. They usually come with lifetime warranties.
Metal Roofing
Metal is among the best roofing material available. Environmentally-friendly and incredibly durable, a metal roof can lower your utility bills and last for decades. Usually, each sheet of metal roofing is cut to a custom size for a perfect fit.
Did you know a metal roof can look like asphalt shingles, wood shake, or tile?
Tile Roofing
For the aesthetically-minded homeowner, a tile roof makes for a beautiful addition to your house. Tiles are made of either clay or concrete and can look like real, natural slate. We offer a variety of profiles, including Roman and flat tiles.
---
Residential Roof Repair
Sometimes your roof just needs to be repaired instead of replaced. We can determine this by a free inspection. As the homeowner, you should visually inspected your roof once a year to check for signs of ware or potential problems, such as warn-out shingles, trees rubbing on the roof, or flashing coming-up. Here are 3 common issues that can cause problems with your roof:
Water Leaks
Water leaks are the biggest problem because water can leak in under your roof and cause bigger, more costly problems, such as attic and ceiling damage, and mold growth. Common causes of water leaks are a warn-out roof or punctures caused by debris or fallen branches.
Flashing
Flashing is usually aluminum or galvanized steel and is placed over joints in roofs to prevent water seepage. Improperly installed flashing can result in the flashing being blown-off or water leaks. It's important that flashing is installed properly with the right amount of adhesive.
Wear
Tree branches rubbing on, or falling onto, your roof can cause shingles to wear-out prematurely or come-up. The sooner you catch this problem, the sooner you can prevent costly damages.