If you're in need for new roofing shingles, you're in luck, as there are more options to choose from than ever before. Not only are today's asphalt shingles more resistant to the elements, they're also more resistant to other things, such as bacteria and color-fading.
There's also a new roofing shingle product available today - stone-coated metal shingles. These are essentially just like asphalt shingles, except instead of a fiberglass foundation, it's sheet metal. This allows them to last often 3 times as long as traditional asphalt shingles. As a result, they often cost less in the long run, even though they cost more initially.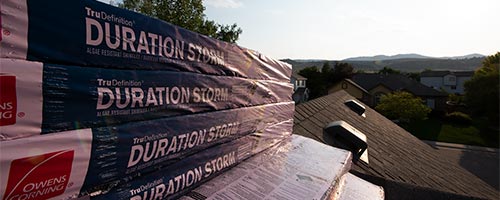 Asphalt shingle features
As a homeowner, you're probably only concerned about how much a roofing shingle costs and how it looks. And these are fine things to care about. Features that we like, however, are how easy the shingles are to install and how well they stay down once installed. It's for these two reasons why we particularly like Owens Corning's TruDefinition Duration line of shingles. Owens Corning has their SureNail© technology. That is the nailing line on the shingles. It's helps our shingle installers install your asphalt roofing shingles fast. That nailing line also helps your shingles stay down during a high wind storm. It's tacky and secures the top shingle to the one beneath it.
And, because we get hail storms and high-winds here in Colorado, we really like an impact-resistant and high-wind-resistant shingle. Although we really don't mind installing shingles for you, we would like them to last as long as possible so we don't have to come back too soon 🙂
Asphalt shingle manufacturers
There are over a dozen roofing shingle manufacturers in the U.S. including Owens Corning, GAF, CertainTeed, Tamko, IKO, Malarkey, and Atlas, just to name a few. We've worked with all of these manufacturers. Some manufacture a better shingle than the other. One might offer more colors or options. One might have an easier to use website. But what's really important is (a) who offers the best warranty and stands behind it, and (b) who makes the best residential roofing shingle for Colorado. Hail storms happen. That's a fact living here in Colorado. And when that happens, you need a roofing manufacturer that's easy to work with and is there when you need them.
You also need a shingle manufacturer that makes a good product. Otherwise, what's the point?! Why install a roofing shingle if it's going to blow away in the next wind storm, or get destroyed in the next hail storm.
This is why we only work with the shingle manufacturers that are easy to work with from a warranty stand point, and offer reliable roofing products. Those are Owens Corning, GAF, CertainTeed, Malarkey, and Tamko. We've worked with lots of roofing shingle manufacturers, and these are the best.
Stone-coated metal shingles
Although stone-coated metal shingles are somewhat new, they are quickly gaining in popularity, and for good reasons. We've noticed, those with deteriorating wood shake roofs are often opting for stone-coated metal shingles because they still want that authentic wood shake look, but they want a longer-lasting roof. We're also seeing more folks choosing metal shingles over asphalt shingles because they last so much longer than asphalt shingles even though they cost more initially.
New roofing shingle considerations
When considering new residential roofing shingles, most of our Colorado customers either start with (1) what they can afford, (2) what shingles are currently on their roof, or (3) whatever their neighbor has.
Budget
If budget is your primary concern, you might be considering your least expensive 3-tab shingles. Although these shingles are often the least expensive initially, they aren't always the least expensive over the lifetime of your roof. You may, in fact, spend more over the long haul. 'You get what you pay for', often applies here. Your basic 3-tab shingles from Owens Corning, for example, only lasts about 20 years. What's more, they only have a 25-year limited warranty, only carry a wind rating of 60mph, and are not impact resistant. Owens Corning's Duration Storm shingles, on the other hand, have a limited lifetime warranty, carry a 130mph wind rating, and are impact resistant.
So, if you and your neighbor both replace your roofs at the same time - you install 3-tab shingles and your neighbor installs an impact resistant, high-wind resistant, longer-lasting shingle, in 30 years, you might have replaced your 3-tab roof twice, while your neighbor is only just now replacing their higher quality roof.
Speaking of the least expensive roofing shingles, if shingles is what you're after, you should serious consider stone-coated metal shingles. Although these cost more initially, they often cost less in the long run because they last around 3 times longer than traditional asphalt shingles. What's more, these metal shingles resemble asphalt shingles, wood shake, or tile. Another reason to consider metal shingles is that they are recyclable, unlike asphalt shingles.
Same as
Maybe you just want to replace your existing shingles with the same brand, quality, color and features as you had before. And that may be fine, if those shingles have served you well, lasted as long as they were suppose to, you liked the color, etc. If they did not, however, maybe you want to consider an upgrade. If they were your higher-end shingles but they didn't last as long as they were suppose to, you might want to consider a different shingle manufacturer. Not all shingle manufacturers are the same. According to Consumer Reports, Owens Corning has the highest-rated roofing shingles.
I'll have what he's having
Sometimes it's tempting to go crazy and get the best, the most expensive roofing shingles available with all the bells and whistles. If money is no concern, and you can afford it, go ahead. Have fun. Especially if it's your forever home. Keep in mind, however, if you're in a neighborhood where everyone else has the least expensive roofing shingles, and you don't plan on living in the house forever, and you get the most expensive roofing shingles, you might be pricing the house out of the area's market.
No one that gets a new roof and sells their house, gets 100% of that new roof cost back. But if you put a new fancy roof on a house that's in a neighborhood that doesn't have fancy, expensive roofs, you'll get even less of that new roof cost back.
On that note, if you're about to list your house for sale, and you know your roof should be replaced but you're considering getting the cheapest roofing shingles just to get it sold, read this article and consult with your real estate agent.
Summary
If you're looking for new residential roofing shingles in Colorado and you need help deciding which brand to go with, what features you need, etc., what's in your budget, we can help. In some cities, such as Fort Collins, we're not allowed to install a non-impact-resistant asphalt roofing shingle. This is due to the number of hail storms the city gets. This does make the decision process a little easier. If you know what you want and just need us to install them, that's cool, too 🙂 Contact us for a free estimate.
If you're not familiar with stone-coated metal shingles, look them up. They are more environmentally-friendly since they're recyclable, and they last longer than traditional asphalt shingles. They do cost more initially, but since they last so much longer, they often end-up costing less in the long run.
What's more, in our opinion, metal shingles resemble other roofing materials better than asphalt shingles. For example, if you're wanting a shingle that looks like real wood shake, we feel Westlake Royal Roofing's Pine-Crest Shake more closely resembles wood shake than most asphalt shingles.
Whether you're looking for a reroof, or roofing for new construction, we're here for you. Inspections and estimates are free.