Commercial roofing is simply roofing for a commercial building. Most commercial buildings are low-slope and require a single ply roofing material - that is a roofing material that essentially acts as one large roofing membrane. The most common single ply roofing materials are TPO, PVC, and EPDM. These materials are available in rolls and are hot-air welded to each as they are installed. As a result, a single ply roofing material is more resistant to slow moving water than, for example, asphalt shingles.
Being a commercial roofing company, we install, maintain, and repair the above mentioned single ply roofing products, as well as modified bitumen. These systems can be installed onto any roof, be it commercial or residential, as long as the pitch isn't too steep.
A commercial building can have a non-single ply roofing product, such as shingles, metal, or tile, if the slope is steep enough. That said, you can install a commercial roofing product onto a residential building. My detached garage, for example, has an EPDM roof. The addition on my house has modified bitumen. Some steep slope homes have have a small section of their roof that is low slope, which has a low slope roofing material. It's not uncommon to use some amount of modified bitumen on a modern home's roof.
Commercial Roofing Services
Contact us today for a free estimate!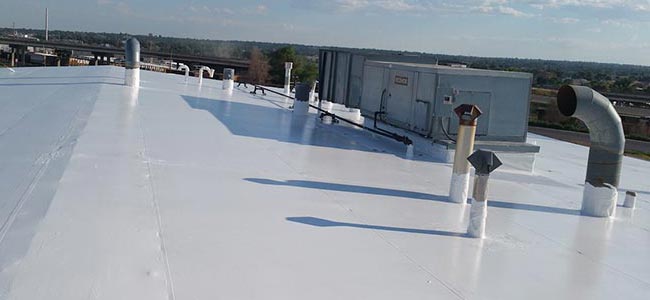 New commercial roof
Choosing a single-ply roofing system for your commercial building is relatively easy. Assuming you have a low-slope roof, start by asking yourself if greases, oils, or fats are being used inside your building. If they are, PVC is the right choice as it is resistant to these. If you answered no to that question, is money a concern? If not, go with TPO since it's less expensive than PVC yet still a great product. If money is a concern go with EPDM since it's the least expensive single ply roofing material. Let us know if we can help you with your new commercial roof.
Single-ply roofing systems we offer
PVC
A type of plastic. It holds-up very well to harsh weather. Most restaurants choose PVC roofs because it is resistant to animal fat and grease. The average lifespan of a PVC roof that is not re-coated is about 20 years. PVC is strong, but not as flexible as TPO or EPDM. Learn more about a new pvc roof to see if it's right for you.
TPO
A reflective membrane made from fused polymer and rubber. If the building is not a restaurant, TPO is a good choice. A new TPO roof last about 25 years without additional coatings. TPO is less expensive than a PVC roof. It is non-toxic and is recyclable. Because it reflex UV radiation, it helps keep your Summer utility bills lower.
EPDM
The 'rubber roof'. A very durable rubber membrane most commonly used on low-slope commercial buildings, detached garages, RVs. EPDM is the least expensive of these single membranes, yet the one that lasts the longest. The average lifespan of a new EPDM roof is 30 years.
---
Checkout our Commercial Roofing Gallery for a small sample of the work we've done as a trusted Colorado commercial roofing contractor.
Unsure which system to choose? Checkout our Commercial Roofing Guide to see which system is best for certain situations, which one lasts longer, and more.
Learn more about single membrane roofing and flat roofs.
---
Commercial Brands We Offer



---
Commercial roofing installation
A correctly, professionally installed commercial roof is key. Any improperly installed roof is a waste of time, materials, and money. Sometimes we can't avoid punctures in a roof, such as from a tree branch, or damaged flashing. But everyone can avoid an improper installation and improper materials. Once a roof has been installed correctly with the right materials, they are relatively easy and low-cost to maintain and repair. Punctures can be patched. Standing water can be cleared by removing the blockage, flashing can be repaired. But if the wrong materials were used or it wasn't installed right, sometimes the entire roofing membrane comes down and you're starting over.
Commercial roof repair
Not only do we install new commercial roofing, we also repair them. One of the most common problems we encounter is improper installation. When correctly installed, a commercial roof should last at least 15 years. When improperly installed, or if installed in poor weather conditions, problems almost immediately begin to show. What's more, an inappropriate system can also cause problems. For example, if one installs an EPDM roof onto a restaurant, the cooking fats can prematurely breakdown the membrane and cause problems.
Common commercial roof problems that result in repairs are a lack of maintenance, poor installation, improper roofing materials used, standing water from improper drainage, punctures from debris or walking where one shouldn't, shrinkage, and damaged flashing and pitch pans.
Whatever the roofing problem is you're having, we can help.
Commercial roof maintenance
Any roof is expensive. And, the last thing any of us wants to do is spend money when we don't need to. That said, a properly maintained commercial roof lasts longer than a roof that's been ignored. Your commercial roof should be inspected by a commercial roofing professional at least once a year. I say a 'commercial roofing professional' because only a professional commercial roofer will know what to look for. Since we offer free inspections, you have nothing to lose. 🙂
A single ply roof should last 20 years or more if it's not damaged and it's been properly installed. In addition to regular inspections, if your single ply roof gets the occasional re-coating, it will last a lot longer.
---
What sets us apart from other roofing contractors
Fully covered with general liability insurance
Better Business Bureau member since 1995
We always purchase permits before we start a project
We back our work with a 5-year workmanship guarantee
Need more reasons to work with Bob Behrends Roofing?
---
Recent Commercial Single Membrane Roofing Projects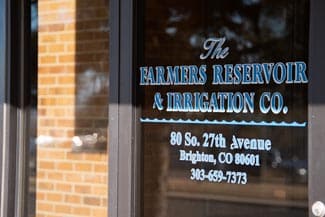 Check out our commercial roofing project gallery to see more.
---
What to expect when you hire Bob Behrends Roofing
1. Free Inspection and Estimate
We will thoroughly inspect your roof, so we know what needs to be done. Afterwards, we will provide an estimate so you know what the project will cost. Both free of charge.
2. Roofing Materials
You will select your roofing materials and we will order them for you and let you know, approximately, when they will be arriving.
3. Get to Work!
Someone from our office will call you to let you know when work will begin. Once the project is complete, we will inspect our work to make sure it was done to both our satisfaction and yours.
Professional roofers you can rely on
When you hire us as your Colorado commercial roofing contractor, you're hiring a professional team that's fully licensed and insured, with over 30 years of experience.
We know the trade. We know the materials. We know how it's done.
We understand that your roof has a very important job. Because of its exposure to rain, snow, hail, heat, and sometimes even foot traffic, it is a vulnerable part of your building. A professionally installed, high quality roof can withstand these harsh conditions and last longer than a roof that's made of lesser materials or an incorrectly installed one.
Whether you need a new commercial roof, or repair on an existing one, our Colorado commercial roofing contractors can help.
Learn more about our roofing process.