For those looking for a new commercial roof, also known as a flat roof or low-sloped roof, we offer installation, repair, and maintenance of PVC, TPO, EPDM, and Modified Bitumen (ModBit). Any low-sloped roof, whether it's commercial or residential, may have any of these single membrane roofing products installed onto them. (See How to choose the right roofing material). Most commercial building use TPO. All restaurants should use PVC since it's resistant to grease and fat. Most residential flat roofs use EPDM or ModBit. When installed correctly and maintained, these are excellent single membrane flat roofing products.
Commercial Roofing Services
Contact us today for a free estimate!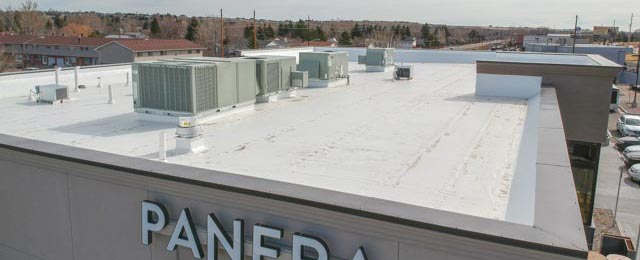 New flat roof installation
Ensuring your new flat roof lasts as long as possible, whether it's for your business or your home, starts with proper installation. You could have the most expensive, most durable single membrane roof system on the market, but if it wasn't installed correctly, it will fail prematurely. This is one reason why business owners and commercial building contractors hire us to install their new flat roof for them - they know we will install it properly. They also know we stand behind our work with our 5-year workmanship guarantee.
What's more, we only work with the best single ply roofing manufacturers, such as GenFlex, Mule-Hide, Versico, and IB Roof Systems. These companies are industry leaders, produce quality products, and back them with excellent warranties. There are hundreds of single membrane roofing manufacturers in the world and we've narrowed it down to the above top 4.
If you're looking for a new flat roof installation, and are having a hard time choosing between the above 4 mentioned single membrane roofing products, we can help. Most commercial building contractors already have a roofing product in mind when the business owner told them what their business is. But if you're the business owner researching your flat roofing options, contact us or refer to our article on How to choose the right roofing material.
New PVC roof
A new PVC roof today is the most durable flat roof system you can buy. It is also the most expensive, however. It is the most durable, not only because the membrane itself strong, but the seams are also strong, thanks to the heating-welding process. A new PVC roof is also resistant to so much. For example, a properly installed PVC roof is resistant to high-winds. In fact, some PVC roofs have been known to withstand category 3 hurricanes.
Because PVC roofing contains fire retardants, they are naturally fire resistant. It is very difficult to ignite a PVC roof. In addition, they are resistant to oil, fat, and grease, which makes them ideal for restaurants. PVC roofing is also resistant to fungi and bacteria.
A new PVC roof is very energy efficient due to its naturally white reflective surface. This means lower energy bills in the Summer.
All these benefits of a PVC roof come at a cost, however. Not only is a PVC roof the most expensive, it is also the shortest lived, compared to TPO and EPDM. A properly installed PVC roof should last around 20 years.
Who should have a PVC roof:
restaurants, definitely
optionally, small cafes, bakeries, etc.
Required PVC roof maintenance:
annual inspections, remove any debris, check drains for blockages
---
New TPO roof
For those commercial business owners that are not a restaurant, a new TPO roof is an excellent choice. It's not as expensive as PVC, yet very durable. Restaurant owners should not use TPO since it is not resistant to fire, grease, or fat. It also lasts longer than PVC, by about 5 years, giving TPO an average lifespan of about 25 years.
As with any roofing product, however, you should plan on regular inspections and routine maintenance. (Did you know we offer free inspections? 🙂 )
TPO is also considered a 'green' roofing product since no plasticizers are in the product. What's more, it's non-toxic and non-hazardous.
As with PVC, a new white TPO roof can help lower your Summer utility bill since it will reflect the Summer sun and heat. Grey and black TPO is also available, however. Of course, these are not as energy efficient as white.
Who should have a TPO roof:
manufacturing
warehouses
department stores
office buildings
condominiums
medical and dental offices
hotels
Required TPO roof maintenance:
annual inspections, remove any debris, check drains for blockages
---
New EPDM roof
For those considering a new EPDM roof (rubber roof), you're about to have an excellent product. EPDM lasts the longest of the 4 low-sloped roofing systems mentioned here, at around 30 years, yet it is among the least expensive.
EPDM is an excellent roofing product for low-sloped applications that are not restaurants, since EPDM does not hold-up to oils, fats, and greases. EPDM is cost-effective, quick and easy to install, and repair. Small repairs, such as punctures, can easily be made with patches, not unlike patches used on bike tubes. EPDM is also puncture-resistant.
Today, EPDM roofing is available in either black or white. A white EPDM roof in warmer climates will help lower cooling bills since it will reflect the sun's heat away from your building. In cooler climates, a black EPDM roof might be desirable as it will help warm your building and lower your heating bill.
Who should have a EPDM roof:
commercial low sloped roofs where no cooking, baking, etc. is done
residential low sloped roofs, such as home additions, detached garages, sheds, etc. where curb appeal is not a concern
Required EPDM roof maintenance:
annual inspections, remove any debris, check drains for blockages
---
New Modified Bitumen (ModBit) roof
Modified bitumen is very similar to the common asphalt roofing shingle, except in a large roll. It is the least expensive of the flat roofing systems mentioned here. However, it is also the shortest lived.
Who should have a ModBit roof:
Although any low-sloped roof can have Modified Bitumen, it is most often used in residential applications, such as home additions and garages. It is also used on low-sloped sections of steep-sloped roofs.
Required maintenance:
annual inspections, remove any debris, check drains for blockages, check for rippling