Your residential and commercial roofing company servicing the Colorado Front Range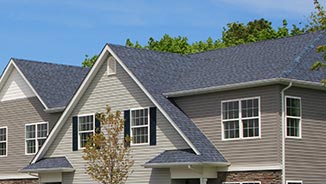 We know there are a lot of roofing companies in Colorado to choose from. Some are a one-man operation that take a really long time to get a job done. Others are national and are so big that they don't really take the time to do a thorough inspection or installation of your roof. Nor do those big roofing companies appreciate our unique Front Range weather. Bob Behrends is different. We're family-owned and operated.
Because we're a local, family-owned and operated roofing company, we can offer more affordable prices and we can respond to your needs than the national roofing companies or the one-man shops. That make us more reliable.
We're not only preferred by homeowners such as yourself, we're also a Platinum Preferred Roofing Contractor of Owens Corning, a leading roofing materials manufacturer. Being a preferred roofing contractor doesn't come easy. You have to know what you're doing. You must pass rigorous tests and stay up-to-date with the latest roofing technology and training.
Whether you need a new roof or your existing roof repaired, you can trust us to take care of you. We offer free roof inspections, whether you hire us or not. If we do install a new roof for you, we also send an inspector our to inspect your new roof to make sure it was installed correctly and to make sure you're happy.
Once your new roof is installed, and it's been inspected, and you're happy, only then will ask for a payment. We do not ask for payment up-front. No payment until you're 100% satisfied.
We also offer free estimates, whether you choose us or not. What's more, we offer a 5-year workmanship guarantee* on our work.
With Bob Behrends Roofing, it's a Win-Win situation for everyone. But don't just take our word for it, though. Check out our google reviews.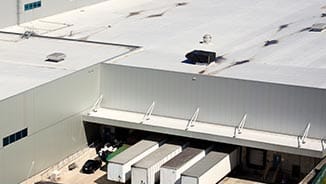 As your preferred Colorado commercial roofing company, we know you're looking for a company that's reliable. One that's going to be there when they say they will and one that will perform to your high expectations. After all, if a company isn't reliable, why bother hiring them? They might have the best products and services, but if they don't show-up to do the work, none of that matters.
We are a qualified and experienced Colorado commercial roofing company, and know how to get the job done. The right way, and fast, without cutting any corners. We know our commercial roofing products and we know how to install them. Period. We fix a lot of other roofing company's work. The most common commercial roofing problem we encounter is incorrect installation. With us, you don't have to worry about that.
We are qualified installers of all the major single membrane commercial roofing systems including Versico, Mulehide, Genflex, John Mansville and IB Roof Systems. This allows us to offer 10, 15 and 20-year labor and material warranties. What's more, we offer our own 5-year workmanship guarantee.
Being a Preferred Roofing Contractor to our roofing manufacturers doesn't come easy or quick. It takes years of training and experience. A commercial roofing manufacturer won't warranty their products if the Colorado commercial roofing company installing them isn't properly trained and doesn't trust that roofing company to install them. That's not the case with us. Our suppliers completely trust us to install their products. They have our backs.
As a business owner yourself, you know that you need the company you hire for Colorado commercial roof repair services to be insured. With our general liability insurance, your property is covered against damages and our employees are covered against injuries. No worries.
Whether you need a new commercial roof (also known as a flat roof) installed or you need your existing flat roof repaired, look no further than Bob Behrends Roofing. We offer free inspections and estimates and offer the following commercial / flat roofing options:
PVC
TPO
EPDM
Modified Bitumen
We are proud to offer residential and commercial roofing products from the following manufacturers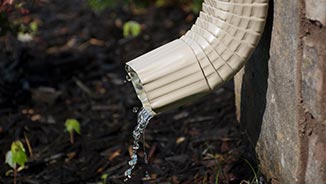 Being a complete roofing company, we also offer gutter installation and repair. After-all, gutters are an integral part of the overall system that protects your property, including the foundation, from rainwater.
We offer both residential and commercial gutter service. For your home and light commercial buildings, such as commercial buildings with sloped or pitched roofs, we offer 5" and 6" K-style seamless gutters made of steel or aluminum. Our seamless gutters are formed and cut on location for a precise fit. Our gutter truck has a gutter forming machine inside that's attached to a roll of gutter material. This allows us to produce as much gutter as we need to minimize the number of joints in your gutter.
For commercial buildings with flat roofs, we offer 7" steel box-style gutters, and open downspouts. These are heavy-duty gutters built to withstand more rainfall than the smaller, residential gutters. Often, commercial buildings have very large roofs. Those large surfaces collect a lot of rain water, and that water will require large pipes to direct it off of your building and away from your building's foundation.
Just need your gutters or downspouts repaired? No problem. Contact us for a free gutter inspection and estimate.
Our gutters also come with a 2-year workmanship warranty, and a 30-year paint warranty. If our gutters fail as a result of our improper installation, or if the paint that comes with your gutters or downspouts fail under normal circumstances and weather, just contact us.
Why choose Bob Behrends Roofing and Gutters?
5-year Workmanship Guarantee
We are a Preferred Contractor of Owens Corning and CertainTeed. As a result, we get great pricing which we pass along to you.
After 30+ years in the roofing business offering exceptional products and services, we have a great track record. But, don't take our word for it. Check out our on-line reviews.
No payment until you're satisfied
We do not ask for any money from our customers for Colorado commercial roofing services and residential roofing services until they are completely satisfied with the job.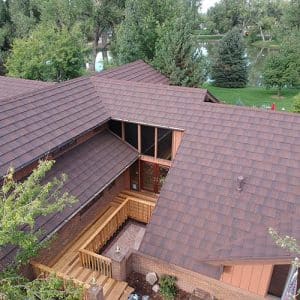 Repeated hail storms and high winds have not been kind to your roof. You've got exposed asphalt from multiple hail storms and you're missing some shingles thanks to strong winds. You're shopping around for new asphalt roofing shingles in Colorado and wondering which ones offer the best resistance to hail and high winds. In Northern…
Read More
Spring is a time of celebration. The long, cold Winter is over. Flowers are blooming. Birds are chirping. The snow and ice is melting. In Colorado, Spring is also a time for high winds, rain, lightning, hail, and wet and heavy snow. These elements can cause a lot of damage to your roof. Strong winds…
Read More