Why Hire Us Over Other Roofing Companies?
Bob Behrends Roofing and Gutters is a family owned company that takes pride in having our name out there to the public. Here's what sets us apart from many other Colorado commercial roof repair contractors and residential providers:
5-Year Workmanship Guarantee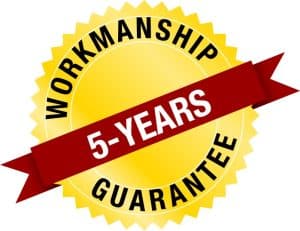 Up to 5 years; our guarantee covers any issue or leaks, excluding hail damage or stipulations that are in the contract. (i.e. – new residential construction)
5 to 10 years; the manufacturer warranty covers 100% replacement due to defective material (not leaks due to workmanship.)
10 years until the roof needs replaced; the shingle warranty is a material only warranty and is depreciated by time.
Our workmanship guarantee is held in our system by address and doesn't need to be transferred if the home is sold.
Competitive Pricing
Because we are a large Colorado commercial roofing contractor and residential service provider, we buy roofing materials in bulk from our vendors. This means we get flexible pricing from our vendors that smaller roofing companies just can't get. As a result, we often pass this savings on to you.
Experience
Bob Behrends has over 30 years of commercial and residential roofing experience.
Covered and Insured
Bob Behrends Roofing is fully licensed and insured with general liability insurance throughout Northern Colorado.
Fully Staffed
We have a friendly, staffed office ready to take care of any questions or concerns you may have about your Colorado commercial roof repairs or other residential needs. Monday through Friday 8-5pm (You can get an actual person).
Permits Pulled
Permits are always pulled before starting a project.
Relationships
We have a great reputation and relationship with many insurance companies in the area and work with them during your roof damage claim.
No Money Upfront
We do not ask for any money from our customers until they are completely satisfied with the job.
Qualified and Preferred
We are a Preferred Contractor of Owens Corning and CertainTeed. Bob Behrends Roofing is also a qualified installer of Versico, Mulehide, Genflex, Johns Manville and IB Roof Systems allowing us to offer 10, 15 and 20-year labor and material warranties on commercial and residential jobs. We also work with many other shingle manufacturers including Tamko and Gaf Elk.
Track Record
Bob Behrends Roofing, LLC has been a member of the Better Business Bureau since 1995 and has an A+ rating.
Great Reviews
Don't take our word, read these testimonials.
General Contractors
We work with over 30 contractors that build homes in Northern Colorado, and provide quick and accurate estimates on new roof installations.
We're Specialized
We specialize in most methods of residential and commercial roofing including; shingles, tile, shake, metal, and flat membrane roofing.
No job too big or too small
No job is too big or too small for us, including these services in Colorado: re-roofs, repairs, and new construction in both residential and commercial buildings.
Accurate Estimates
We utilize the estimating software Xactimate in order to keep up-to-date with current industry pricing and to produce accurate bids, and utilize state-of-the-art plan takeoff software in order to provide fast and accurate turn-arounds on new construction projects.
Thanks to our wonderful customers we continue to grow every year!