TPO stands for Thermoplastic Polyolefin. It is a single-ply roofing system made from polyprophylene and ethylene-propylene rubber combined together.
TPO technology is still somewhat new having only been in use since the mid-1980s. Regardless, it is the most popular commercial roofing system today primarily because of its ability to reflect heat and it's very affordable.
Let us know if you're ready for a new TPO roof.
How long will a TPO roof last?
TPO is quite durable! You can expect to get 20 to 30 years out of your TPO roof.
---
Learn more about the differences between the various commercial roofing systems in our Commercial Roofing Guide.
---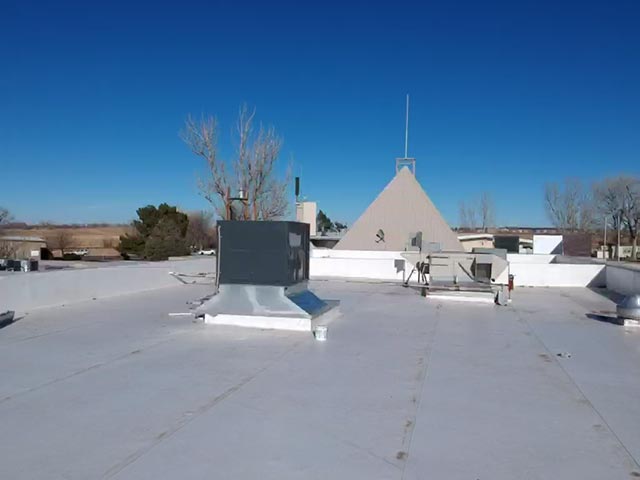 Why choose TPO?
Most business owners choose TPO as their roofing system for three reasons:
1. It's Affordable:
The biggest reason TPO is chosen over other commercial roofing systems is its cost. The average cost per square foot for TPO roofing is around $7.00. (Checkout our Commercial Roofing Guide to see how TPO stacks-up against PVC and EPDM.)
2. It's "Green":
TPO is considered "Green" since there are no plasticizers added. It is non-toxic, non-hazardous, and is 100% recyclable.
3. It's "Cool":
TPO membranes reflect UV radiation, thus keeping the surface of the roof, and the inside of the building, cooler during Summer months. Although it's available white, grey, and black, using white will further help reduce roof and building heat. Also, TPO does not degrade under UV radiation.
Another perk of choosing TPO is that it's resistant to mold, algae and mildew, and it doesn't require a pressure washer to clean it.
How is a TPO roof installed?
Just like PVC, the TPO membranes are hot air welded. TPO roofing membranes can be glued, fastened, or weighted-down with sand, gravel or rocks. TPO membrane seams are 3 to 4 times stronger than EPDM roofing seams, and are stronger than the TPO membranes themselves.
Summary:
affordable
20-30 year lifespan
used since the 1980s
most popular
recyclable
non-toxic and non-hazardous
reflects UV radiation (keeps building cool)
mold and mildew resistant resistant
flexible, yet impact and tear resistant
TPO seams stronger than EPDM roofing seams