Our roof installation process, whether it's for your home or business, is simple and straight-forward. It starts with a free inspection and estimate and ends with you completely satisfied 🙂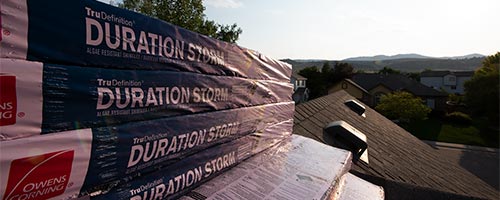 Contact us today for a free roof estimate.
1. Free Inspection
We need to inspect your roof first to determine if it needs to be replaced or repaired. If you're on-site during or after our Colorado commercial roof inspection or our inspection of your home, we will discuss with you what we found.
2. Free Estimate
Once back at our office, we'll put together a free estimate that includes what work needs to be done and email it to you. If your roof needs to be replaced, we'll also send you roofing material options, such as colors, warranty options, etc.
3. Sign Contract/Agreement
If you've decided to contract us for Colorado commercial roofing service or residential work, and you've chosen your roofing material, you'll sign the contract and send it back to us.
4. Order Roof Material
After receiving your signed contract, we order the roof material you've chosen. Someone from our office will let you know approximately when materials will arrive and when work will begin. We offer all major residential roofing materials, including asphalt shingles, tile, and metal. We also offer popular single-ply, commercial roof materials, such as PVC, TPO, and EPDM.
---
Learn more about your roof material options, which is best, average costs and more in our
---
5. Work Begins
We will try to contact you the day before, or the morning of your Colorado roof installation. Removing and installing a new roof requires hammering, drilling, stapling, etc. So expect some noise while we remove your old roof and install the new one. Most house roof and small commercial roof replacements are complete within 1 to 2 days. Here are some tips to prepare for a reroof.
What we need to start the roofing job:
Access to driveway or parking lot and outside electrical. We will need to park a dumpster as close to the roof for the old roofing materials, and we will need power for our power tools.
If you have anything in your attic or unfinished garage that you do not want us to get dirty, please move it. Debris falls down through decking, especially spaced decking, during the roofing process.
If you have a satellite dish, please plan on scheduling with the dish provider to have the dish realigned because we may have trouble getting a signal. You may incur a cost for this, so please check with your satellite provider.
Replacing a roof can be really messy. Once the new roof is on, we try out best to walk around the outside of the house to sweep and pick-up any debris.
6. Job Done! Final Inspection.
Once all the work is done, someone will come-out to inspect the new roof or roof repairs to make sure everything was completed satisfactorily. At this time, you, as the home or business owner, will also have an opportunity to sign an agreement stating that you, too, are satisfied. We do not ask for any money from our customers until they are completely satisfied with the job.
Our Roofing Guarantee
5-Year Workmanship Guarantee
Our workmanship guarantee is held in our system by address and doesn't need to be transferred if the home is sold.