If you're looking for a professional company to help with your roofing for new construction in Colorado, your search is over. At Bob Behrends Roofing, new construction roofing is one of our specialties. Whether you're building a new house or a new commercial building, we can help. When a new building is going-up, we know there are often multiple crews on the site. Therefore, we try to work quickly and safely without interrupting the other crews.
We have dedicated commercial and residential roofing crews. This makes each crew specialized and efficient. We are qualified and preferred from the best roofing material manufactures. Just like our re-roofing process, our new construction roofing process includes a free, no-obligation estimate using popular estimating software.
Contact us for a free estimate if you're in need of new construction roofing.
What is new construction roofing?
New construction roofing is when we install roofing material onto a new building. We have installed roofs onto new houses, new department stores, new restaurants, and more. New construction roofing should not to be confused with reroofing or a roof replacement. Reroofing or roof replacement is when an existing roof is replaced. When simply replacing an existing roof, any required adjustments from the original construction has already been made. In this case, we're simply tearing off one layer of shingles and replacing them with new ones, for example.
As part of the overall construction team, we make every effort to do our part within the contractor's schedule. We work closely and stay in contact with building contractors to make sure they get the best roof possible. This is why we like to stop by the construction site when the contractor says it's ready for us to review their work.
Roofing for New Construction Challenges
Roofing for new construction presents its own unique challenges. Our goal is to install a new roof for you that will last. We do not want to install a new roof onto faulty new construction. That's why we like to stay in contact with the contractor during construction of the building. We want to know the roof framing is ready for us to install your new roof onto. When reroofing, most of the original framing problems, if there were any, have been fixed when the roof was initially installed. When roofing for new construction, sometimes we have to point-out these problems to the contractor.
Common roof framing issues include an improperly angled Bird's Mouth cut into the rafters, which can result in problems with the ridge board, and the rafter length. Imprecise rafter lengths can result in rafters not seating properly or bearing properly on supporting members. Sometimes roof sheathing is not being fully supported. Sometimes roof crickets need to be installed to promote proper drainage. Otherwise standing water may result. Siding/fascia being installed over the roof deck is a common problem. Another common problem is penetrations for pipes or ventilation not being cut in. These penetrations should be cut by the framing crew. This way, we know to install a vent where the penetration is.
If a contractor contacts us once the roof is sheeted with plywood, we can typically stop by to look for potential problems.
Residential
Having been roofing for new construction since 1983, we've installed new roofs onto all roof types. Residential roof types such as dutch gable, dormer, intersecting/overlaid hip, and hip and valley. We've also installed mixed materials onto the same new construction roof, such as asphalt shingles with standing seam metal, asphalt shingles with modified bitumen, standing seam metal with EPDM (rubber).
New residential or steep-slope roofing materials we install include traditional asphalt shingles, stone-coated metal shingles, standing seam metal, metal panels, and tile. Each of these has their own advantages and disadvantages. Some reflect heat better than others. Some cost less initially, while others cost less in the long run. Most are recyclable in our area while another is not. Be sure to checkout our Residential Roofing Guide to learn more.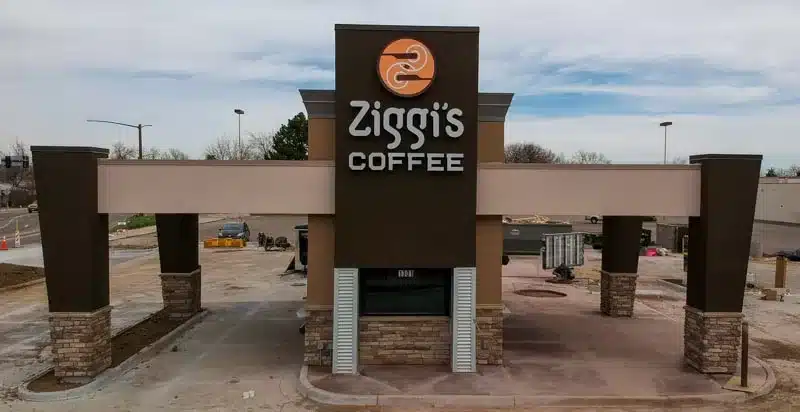 Commercial
Roofing for new commercial or flat construction has its own challenges. As with residential/steep slope roods, flat roofs can have drainage issues. An improper slope is the most common new flat roof construction issue we come across. A flat roof with an improper slope angle or pitch leads to excessive water pooling, which leads to the roofing material breaking down prematurely. Inadequate penetration for pipes and venting can also be an issue for new commercial construction roofing. When pipes are inadequately vented, condensation ensues. As with new residential roofing construction, this can be avoided if the building contractor contacts us once the roof is sheeted. We can then make recommendations to ensure a long lasting roof for their clients.
New flat roofing materials we install include PVC, TPO, EPDM, and Modified Bitumen (ModBit). PVC is often installed onto restaurants, while TPO is often used on commercial buildings, such as department stores, warehouses, medical offices, etc. EPDM, also known as a 'rubber roof' is most often installed onto flat residential applications, such as home additions and detached garages.
Our New Construction Roofing Process
Our new construction roofing process, whether for residential or commercial, starts with a phone call to discuss your roofing needs, the location of the structure, the roofing material to be installed, and your budget. When discussing which roofing material to use, we consider the weather conditions for the exact location, wind, roof slope requirements, the purpose of the building, and we may offer our own suggestion. For example, due to the high winds were get here in Colorado, we may recommend one roofing material over another.
Next, we review your structural plans, from insulation to roof deck. For example, we'll make sure the insulation is adequate and in the correct position. We'll confirm the pitch is adequate for proper drainage, etc. We will do everything we can to ensure your roof lasts as long as possible.
Next we will provide a free, no-obligation estimate. We use popular estimating software that all professional roofing companies use. This allows us to provide accurate, competitive estimates. At this time, we will also discuss your timeline and schedule, and determine when you need us to install your new roof. We know when constructing a building, there are several crews at work. And we know schedule can change. Therefore, we try to be flexible in this event.
Once your building is far enough along that the roof deck is installed, we like to stop by when you, the building contractor, says it's ready for us to check it out. We do this to double-check the drainage and ventilation is adequate, among other things. Again, we want to help set-up you for success.
Once everything is looking good from our perspective, work begins at the agreed upon day. We know there are probably other crews working on the same build. Therefore, we do everything we can to not disrupt your other crews. Our goal here is to install your new roof quickly, safely, and clean-up after ourselves.
Upon competion of your new roof, we send over our own inspector. We have a dedicate commercial flat roof inspector and a separate dedicated residential steep-slope inspector. We send our own roof inspector over to double-check our own work, and to make sure everything is perfect. Again, to ensure the roof we install for you and your client lasts as long as possible.
Finally, once you are completely happy with our work, we will ask for payment. We never ask for payment upfront, and we wait until everything is done and we're both 100% satisfied with our work.
---
Since 1983, we have helped countless contractors with their new construction builds to ensure they get the best roof possible. This includes both residential and commercial from new multi-building apartments to small homes. We have the experience and expertise to help you – the building contractor – build the best roof for your unique situation.
Because we care about our employees and your property, we are licensed and insured throughout Northern Colorado.
We are qualified installers of Versico, Mulehide, Genflex, Johns Manville, and IB Roof Systems. We're also preferred contractors of Owens Corning and CertainTeed, and a Tamko MasterCraft Pro Certified Contractor.
Our work comes with a 5-year workmanship guarantee. Our manufacturers back us up with a warranty of their own because they trust us to install their products correctly.
We look forward to working with you on your new construction roofing project.