---
Short Answer: The coolest roof for Colorado is standing seam or corrugated/PBC since these roofs offer the best combined solar reflectivity and heat emittance. As a result, they help to lower your Summer cooling bill.
---
The climate is warming and you're wondering what all you can do to lower your utility bill. Most folks think of their windows, when they think of home energy efficiency, or using less water or turning off the lights more often. And, these are great things to do. However, what about your roof? How cool is your Colorado roof?
When most people in Colorado think of a cool roof, they think of white shingles or galvanized sheet metal. These are cool roof options, but not your only options. It is true that white (and silver or galvanized) does reflect more heat than, for example, black, but there are other roofing materials that aren't white or silver that are still energy efficient and help lower your Summer utility bill.
With temperatures getting warmer, we're getting asked more often about cool roofs in Colorado. Most commercial roofs are taken care of since those are white anyway. But what about residential or steep-sloped roofs? Below we list all the 'cool roof' options in Colorado that we offer, talk about a little bit about each, and rank them according to how 'cool' they are. We also list the 'hottest' roofing materials – that is, which ones are the worst for reflecting heat away from your home and absorb the most heat.
What is a 'Cool Roof' and How Are They Rated?
According to EnergyStar a cool roof is one that has a high solar reflective value. This is also known as a solar reflectance index or SRI. Roofing materials can have an SRI value of 0 to 100. The higher the solar reflective value, the more efficient the product is in reflecting sunlight and heat away from the building and reducing the temperature of the roof. Solar reflectivity is the most important characteristic of a roof's ability to help lower your Summer cooling costs.
Emittance also comes into play. Emittance refers to a roofs ability to release absorbed heat. This value is often expressed between values of 0 and 1, or 0% and 100%. The higher the emissivity number, the better the material is at releasing absorbed heat. Highly emissive roof products can help reduce your cooling costs by releasing the remaining heat absorbed from the sun. A roof that's hot to the touch will have a low emissivity value. Most roofing materials have emissivity values above .85 (85%).
The 'coolest' roof will reflect the most sunlight away from it. The colors closest to white will do this the best. The 'coolest' roof will also release the most absorbed heat. Let's see what our cool roof options are.
Cool Roof Options for Colorado
Not every roofing material from every manufacturer is available to us here in Colorado. Therefore, we're only going to show those 'cool roof' options that are available to us Coloradoans. We're also going to list them in order of worst (mentioned first) for cooling your house to best (mentioned last).
Stone-Coated Metal Shingles
Because stone-coated metal shingles have a sheet metal foundation instead of asphalt, their emissivity rating is often high. There are gaps between the metal shingles. This helps to release hot air and cool the shingles. Westlake Royal Roofing's Pine-Crest Shake stone-coated metal shingles in Ironwood has an emissivity of .89 and a reflectivity of .11.
It's worth noting that Westlake's Barrel-Vault Tile in Dover (white) has a reflectivity of .41 which is significantly better than their other colors. Most stone-coated metal shingles have the worst solar reflectivity of all the roofing materials listed here. However, if you're really interested in metal shingles and don't mind the Spanish barrel look, and you want to help lower your Summer cooling bill, these are worth your consideration. See chart below. One thing metal shingles have going for them is that they are recyclable, even in our area.
Asphalt Shingles
The Owens Corning website makes it very easy to see cool roof shingles that have the features or technologies that you want. In this case, ones that are EneryStar Rated. Thankfully, they have 3 asphalt shingles that are 'cool roof' shingles. Ranging from economy, affordable, and mid-range is the Supreme, Oakridge, and Duration, all in Shasta White. Their Shasta White color meets ENERGY STAR® requirements for initial solar reflectance of .25 and 3-year aged solar reflectance of .15. However, this is still very low and not nearly as good as white stone-coated metal shingles, clay tiles, or sheet metal. An emissivity rating was not available on the Owens Corning website at the time of this writing.
Until recently, CertainTeed's Solaris line of asphalt shingles was an option for us Coloradoans. This includes their Landmark, Presidential, and Presidential TL. We hope CertainTeed will soon make these available again to us. Solaris shingles are rated by the Cool Roofing Rating Council (CRRC). What's more, they come in other colors other than white, such as Weathered Wood, Moire Black, Gray, Shake, and Tan to name just a few.
Tiles
Between clay and concrete tiles, clay reflects more heat than concrete. Concrete tiles, on the other hand, do release more heat, but only a little more. After reviewing each of Westlake's clay tiles, their 1-Piece 'S' tiles in Old World 1 have a reflectivity of .43 and an emissivity of .86.
Comparing Westlake's concrete tiles, their Barcelona tiles in Buckskin have a reflectivity of .22 and an emissivity of .90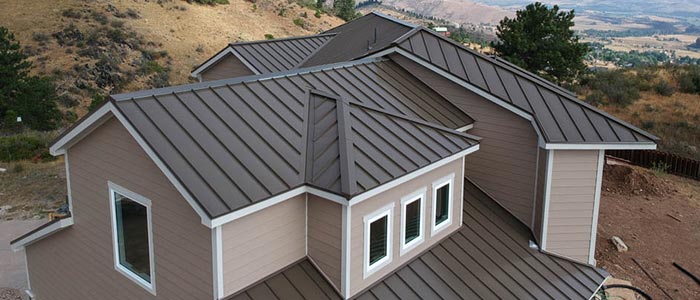 Sheet Metal
Sheet metal roofing, such as standing seam, is the 'coolest' and most energy efficient roof. With sheet metal, there are gaps between the sheets and the roof deck, and between the sheets and the ridge vent. This allows air to flow around the metal which cools it. What's more, all colors of a metal roof are considered cool, not just white. Checkout all the colors we offer on our standing seam metal roofing panels. A metal roof has an average solar reflectance of .67 and an emissivity of .85.
Another cool thing about metal roofing panels is that they are recyclable in our area, unlike asphalt shingles. Recycling your old metal roof keeps it out of the landfill. And, because they last longer than asphalt shingles, they often cost less in the long run, even though they cost more initially. 🙂
So, What is The Coolest Roof for Colorado?
The coolest roof is the one with the highest solar reflectivity and heat emittance, and that's sheet metal! A standing seam or corrugated metal roof also gives your Colorado home that classic western look. Metal also sheds heavy snow fall quickly, if the pitch of your roof is great enough.
The Bottom Line
A 'cool roof' is only part of the 'energy efficient home' equation. Proper attic ventilation and insulation also is important. If you're looking to lower your Summer cooling bill and improve your home's efficiency, contact us for a free inspection and estimate. For more cool roof research, visit https://coolroofs.solspace.net/directory/roof. If a roofing product is not on this site, it did not rate in a level that qualifies it to be cool.
If asphalt shingles are what you're after, Owens Corning has a few cool roof options. Be sure to see their shingles in Shasta White, and check for availability in your area. Looking for something even cooler that will last longer? Go with white stone-coated metal shingles. Feeling really brave? Standing seam or corrugated/PBC metal is the ultimate cool roof for Colorado.