How and where to properly attach Christmas lights to your house
It's that time of the year, to hang Christmas lights from your house. Maybe you've been hanging them the same way for years and you don't know of another way, or you're new to hanging Christmas lights and you're wondering how to do it. I know this article isn't really about roofing or gutters, but it does affect your roof and/or gutters, so do keep reading to learn how (and where) to properly hang Christmas lights.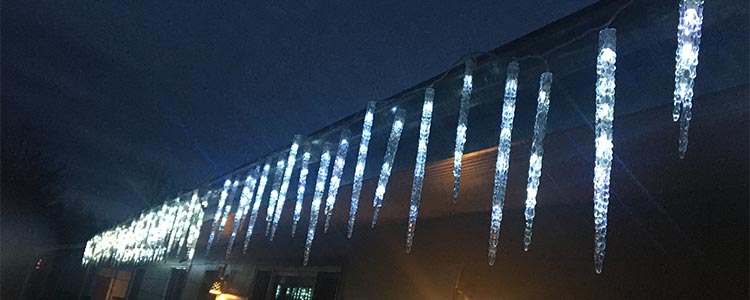 How to attach Christmas lights to your house
There are several methods, and locations, to hang Christmas lights from your house. Some methods are better than others. The best method we've found are clips, such as these Gutter/Shingle Clips from Lowe's.
Why gutter clips?
They keep your lights out of your gutters and off of your shingles.
Because they don't require any drilling, such as into your shingles or your fascia, there's no damage done to either of these surfaces.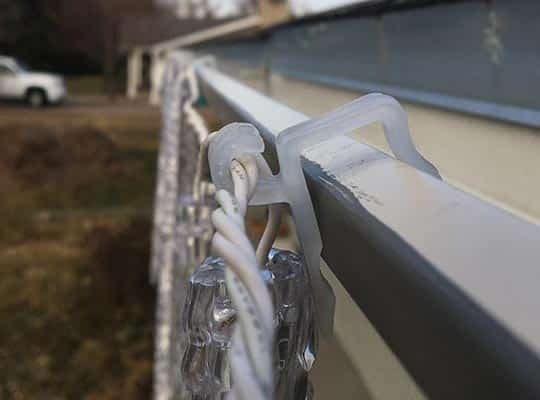 There are several designs to choose from, depending upon the shape of your lights.
Where to attach Christmas lights
The most common locations to attach Christmas lights are from the gutters, fascia, or soffit.
From your gutters is preferred because it's best not to drill holes into your roofing shingles. Holes will make your roof susceptible to leaks. The same goes for drilling holes into your fascia or soffit. Attaching gutter clips to your gutters is quick and easy, and require no tools. What's more, they don't damage or alter the integrity of your gutters. If your gutters are painted, you might want to attach just one gutter clip on a section of your gutter that isn't noticeable to see if the clip scratches the paint.
Don't forget to use a trusted, sturdy ladder on solid ground to access your gutter! Accessing your gutters from the ground instead of from your roof is best, as excess foot traffic can cause granule loss on your roofing shingles leading to premature failure.
Tip #1: It's a little more convenient if you lay your lights on your roof, instead of letting them hang, as you're attaching them. Just be sure not to drag the lights across your asphalt shingle roof, as this will cause granules to come off, which will lead to your roof failing prematurely.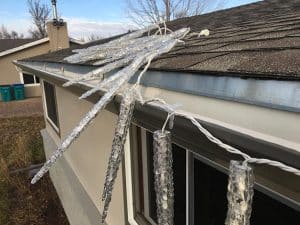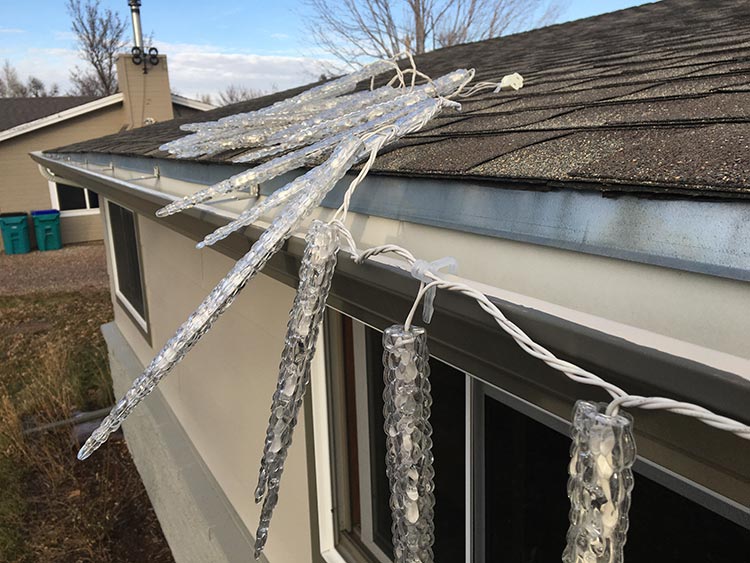 Tip #2: When you take down your Christmas lights after Christmas, don't forget to also take down the plastic clips, as well, as the weather will deteriorate them.
If you have a tip for hanging Christmas lights, let us know in the comments below.