Henderson Roofing Company
As your preferred Henderson roofing company, we offer both residential and commercial roofing installation and repair. Whether you've been hit by the recent hail storm and you need your roof repaired, or you're having new construction and you need a new roof installed, Bob Behrends Roofing is here for you.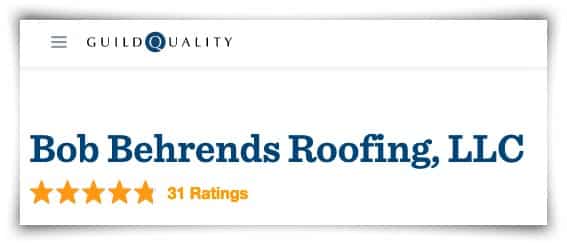 Reliable
We're there when you need us, with free inspections, free estimates, residential and commercial roofing repair and installation. We've been a Colorado favorite for over 30 years.
Guaranteed
We guarantee our work for up to 5 years. Within the first 5 years, our roofing guarantee covers any issues or leaks, excluding hail damage or stipulations in the contract. (contact us for details). And, our roofing workmanship guarantee is held in our computers by address so it doesn't need to be transferred if the home is sold. (buyers will like that!)
Commercial and Residential
Not only do we offer both residential and commercial roofing, we also excel at both. We have a dedicated residential roofing team, and a dedicated commercial roofing team.
Experienced
With over 30 years of experience, we know what we're doing. Bob Behrends himself has been roofing all along the Colorado Front Range since 1983. Therefore, he knows our unique Colorado weather and he knows what's right for you and your house or commercial building.
We also pull permits for every job, are fully licensed and insured, will provide an estimate upfront, will only ask for payment once you're fully satisfied, and collect no money upfront.
Henderson Commercial Roofing
Commercial roofing is often thought of as flat roofing. In actuality, it's any roof that's installed onto a commercial building. This includes both flat and steep-sloped roofs. Examples of commercial steep-sloped roofs include small medical offices, coffee shops, and delicatessens. These steep-sloped roofs use steep-sloped roofing materials such as asphalt shingles, stone-coated metal shingles, sheet metal, or tile. Commercial buildings that don't require large heating or cooling equipment on the roof can get away with steep-sloped roofs.
A few examples of flat commercial roofs are automotive repair buildings, large restaurants, large apartment complexes, and hospitals. Flat commercial roofs use either PVC, TPO, EPDM, or Modified Bitumen. Flat roofs are great for commercial buildings because large cooling or heating equipment can be installed onto them. We have installed countless commercial roofs, both flat and steep-sloped, all along the Colorado Front Range, including Henderson. We have a dedicated commercial roofing crew whose focus is purely installing and repairing flat roofing materials, such as PVC, TPO, EPDM, and Modified Bitumen.
PVC
PVC is the only single-ply roofing product if you're a restaurant owner, as it's resistant to oil, fat, grease, and fire. For our Henderson commercial roofing friends, we offer standard PVC and fleece-backed PVC. Standard PVC is polyester-reinforced and is available fully adhered and mechanically attached. It comes in white, gray, and tan. White and tan are Energy Star Rated, if you're looking to keep your Summer cooling bill down. Fleeced-backed PVC adds additional durability and enhanced puncture resistance. It provides excellent breaking strength.
TPO
For those businesses in Henderson that are not restaurants yet still require a superior single-ply roofing product, TPO is great. These businesses include those in manufacturing, warehouses, department stores, office buildings, condominiums, medical and dental offices, hotels and motels. TPO products we offer in Henderson are Standard TPO, Fleece-backed TPO, Self-adhering TPO, and TPO with a protective film.
Standard TPO today comes in a wide array of colors, including white, gray, tan, bronze, green, brown, and more. White and tan are Energy Star Rated. It's available for fully adhered, mechanically attached and ballasted systems. Up to a 30 year system warranty is available. Fleeced-backed TPO is polyester-reinforced, which provides excellent hail resistance. It, too, comes in a variety of colors. It is only for fully adhered or mechanically attached systems. Self-adhering TPO is also polyester-reinforced, and comes in white, gray, or tan. It is for fully adhered systems only. TPO with a protective film protects the TPO membrane while we're installing it. This saves time and money in cleaning the membrane once it's installed. It's available in white, gray, and tan.
EPDM
EPDM, also known as a 'rubber roof', is also a great single-ply flat roofing product. It's less expensive than PVC and TPO, yet lasts longer. Although just about any flat roof can have EPDM, most of the time we see it on detached residential garages and home additions. For those in Henderson interested in EPDM, we offer Standard EPDM, Self-Adhering EPDM, Reinforced EPDM, White-on-Black EPDM, and Fire retardant EPDM.
Standard EPDM is non-reinforced. It is most often installed as fully adhered. Although standard EPDM is fire-rated, an increased fire-rated sheet is available. Up to a 30 year system warrant is available. Self-adhering EPDM reduces installation time compared to traditional bonding adhesive, thanks to the factory-applied self-adhering layer. What's more, a factory-applied in-seam tape saves time on the seaming process. Although you wouldn't think it, self-adhering EPDM stays flexible in even very cold temperatures. Reinforced EPDM is polyester-reinforced and is also fire-rated. It's for fully adhered, mechanically attached and ballasted systems. It is pre-printed with lap lines and fastener spacing for quicker installation. Reinforced EPDM gives your roof a superior tensile strength and performance. For those consered about keeping their Summer utility bill down, we offer White-on-Black EPDM. It is non-reinforced. Although it is fire-rated, an increased fire-rated sheet available.
Modified Bitumen
Modified bitumen, also known is ModBit, is often installed onto the low-sloped sections of an otherwise steep-sloped roof, such as on homes. We often install ModBit onto those sections, and home additions. It comes in a wide array of colors to match popular asphalt shingles colors. Although ModBit is among the least expensive of the flat roof options we offer, it is also the shortest-lived.
Henderson Residential Roofing
To compliment our commercial roofing crew, we also have a dedicated steep-sloped roofing crew. Their focus is only residential roofing materials, such as asphalt shingles, stone-coated metal shingles, sheet metal, and tile. The advantage of having a dedicated residential roofing crew is that they are specialized. They know what potential problems to look for and how to address them on residential roofs. They also know residential roofing products and how to install them. Asphalt shingles are installed differently than metal shingles. Installing concrete or clay tiles takes more patience than asphalt shingles. Our residential roofing crew knows this.
Asphalt Shingles
They nice thing about asphalt shingles is that they are flexible and inexpensive. They're also somewhat easy to work with, in that they can easily be cut with a utility knife when we need to trim them at the edge of your roof. They also come in a variety of colors. Owens Corning's Oakridge and TruDefinition Duration shingles come in 13 flavors. If saving some money during the warm Summer months is your thing, Owens Corning has an Energy Star Rated color in three of their popular shingle lines. Asphalt shingles also last a decent amount of time - 25 to 50 years for mid-to-upper level asphalt shingles. Most asphalt shingle manufacturers also offer shingles in a range of price ranges. What's more, regardless of which asphalt shingle manufacturer you prefer, they probably offer an impact-resistant shingle.
Sheet Metal
Sheet metal is a great roofing product for a number of good reasons - it lasts longer than asphalt shingles, often costs less in the long run, is recyclable, and is cooler than asphalt shingles. Let's be honest - nobody really wants us on their roof. Roofing is noisy and messy, not to mention expensive. The best asphalt shingle is claimed to last 50 years. In reality, it's often less - more like 30 years. Sheet metal, on the other hand, often lasts at least two or three times as long. With today's warming climate, wouldn't you want a material that helps lower your Summer cooling bill? If you haven't looked at today's sheet metal, you should. It comes in more colors and profiles than ever before. Flatiron Steel has 45 painted metal roofing colors to choose from. Think corrugate is your only profile? Think again. Flatiron Steel not only offers corrugated, but also ribbed, boxed, flush, standing seam, and exposed and concealed fastener.
Maybe you prefer the traditional look of asphalt shingles. Consider stone-coated metal shingles...
Stone-Coated Metal Shingles
Stone-coated metal shingles is a relatively new roofing product. Think of traditional asphalt shingles, but instead of granules adhered to an asphalt base, they are on a sheet metal base. You get the best of both worlds with stone-coated metal shingles - the appearance of traditional asphalt shingles but with the longevity of sheet metal roofing. What's more, stone-coated metal roofing comes in more realistic profiles than asphalt shingles. Take a look at this roof we did in Greeley with Westlake's Pine Crest Shake. It looks more like wood shake than most asphalt shingles do. Maybe you're interested in more of a Mediterranean and Italian tile look. No problem. Both Westlake and Decra offer stone-coated metal shingles that resemble these. And, they're considered 'cool' in that they help keep your home cooler than asphalt shingles.
Tile
Clay or concrete tile is great if you want the real deal. Westlake makes both clay and concrete roofing products that often lasts longer than metal. Just like metal roofing, they are recyclable. If you go with concrete tiles, you have more profiles to choose from, such as barrel, slate, thatch, and shake. Westlake also makes a Class-4 hail rated concrete tile. If you really want your home to stand out, clay or concrete tiles will do just that. Although they cost more initially, they often last the longest of any steep-sloped roofing product.