There are several signs it's time for a roof replacement in Fort Collins. Some are obvious, such as missing shingles. Some are not, however. The below are signs to look for to determine if it might be time for a new roof.
We know a new roof isn't cheap. But, if you replace your old or damaged roof before rain, snow, ice, etc. do more damage, you'll be better off. And, with our roof financing, and free roof inspections and estimates, a new roof in Fort Collins is easier than you think.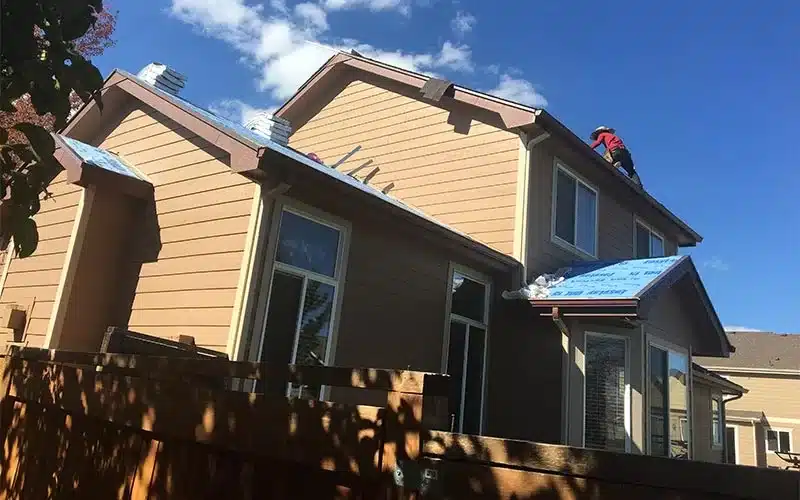 Monkey See, Monkey Do
One sure but often overlooked sign it's time for a roof replacement in Fort Collins is if your neighbors are replacing their roof. Most homes in a neighborhood are built around the same time. Therefore, most roofs were also installed at about the same time. Which means they're all about the same age and material. So, if your neighbors are replacing their roof, it might be time to replace yours.
It's About Time
Another sign it might be time to replace your Fort Collins roof is if it's been about 25 years since your last roof was installed. Most roofs in Fort Collins are impact resistant asphalt shingles. These shingles often last about 25-30 years. Therefore, if you suspect it's been about that long since you had your roof installed, it might be time for a new one.

Cracked or Curled Shingles
If you have one cracked or curled asphalt shingle, you probably have several. Cracked shingles are caused when the asphalt in the shingles shrinks but the above and below layers are fixed. When the asphalt shrinks, but the fiberglass foundation or the granule toplayer cannot, something has to give, and cracks form. Today's asphalt and sealants are more flexible and remain adhered to the various layers, but they still can crack.
Curled shingles happen for a number of reasons, and they are all common, unfortunately. Most common, however, is improper installation. Too many roofing companies in Fort Collins go too fast when installing asphalt shingle roofs. As a result, they either don't use as many nails as they should, or they don't install the nails in the right place, or they don't line-up one shingle to the next correctly. On most asphalt shingles, such as Owens Corning's Duration line, there's a nail line. Note that this nail line is not the same as the tar line or strip. Nails should not be installed in the tar line. This nail line is where, you guessed it, the nails go. If the nails aren't installed on this line, the shingle is susceptible to a variety of problems, such as curling. The same goes for if not enough nails were used.
Poor attic ventilation, old age, and having multiple layers of roofing materials on the same roof.
If you have cracked or curled asphalt shingles on your Fort Collins roof, it's definately time for a new one.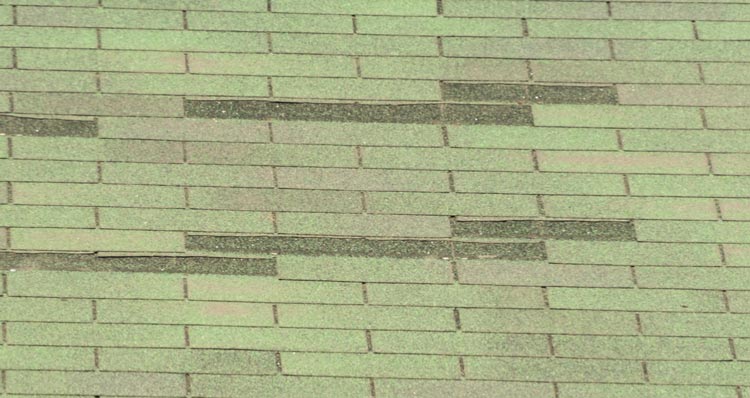 Missing Material
Improper roof installation and strong winds are the most common culprits to missing roof material. High winds are inevitable in Fort Collins. But there's no excuse for an improper roof installation. Most asphalt shingle manufacturers install a clear nail line on each shingle. And, yet, when we are called to inspect a roof with missing shingles, we often discover the previous roof installer didn't install them correctly.
Old shingles, even high quality ones, don't last forever. The tar line that holds one shingle to another dries-up. After numerous wind and hail storms, fluctuating temperatures, snow, ice, etc., it's inevitable any roofing material degrades and falls apart. Given enough time, old shingles will eventually become loose, even if properly installed, and be torn off in the wind.
Wind damage is when any roofing material either becomes loose it's torn off. This can happen to non-high-wind resistant roofing, such as 60mph rated shingles in a 130mph wind storm. Wind damage can also happen to old high-quality shingles, or any quality of roofing shingles improperly installed. Any roofing product can be torn off in the wind if the wind is strong enough.
Not all roofing materials are the same. Some withstand wind better than others. Some are more susceptible than others to wind damage and becoming loose or torn off. If you have few missing shingles, you might not need an entire roof replacement. Those missing shingles could be replaced. Loose shingles could be secured, again. However, if enough shingles are missing on your Fort Collins home, it's probably time for a roof replacement.
Extensive Hail Damage
Wood shake and traditional asphalt shingles are the least resistant to hail. Most wood shake is not Class 4 impact rated. Those that are, aren't nearly as hail resistant as other roofing products, such as SBS modified asphalt shingles or tile or metal.
Asphalt shingles aren't the only roofing product that get damaged by hail. Hail can dent standing seam metal roofing. Pelted repeatedly, or with enough force, metal can crack. Hail can also damage concrete and clay tile roofs. With enough force, hail can spilt or shatter concrete or clay tiles, or wood shake.
If a hail storm has recently ripped through your Fort Collins neighborhood, it might be time for a roof replacement.
Missing Granules
Asphalt shingles aren't the only roofing product with granules. Stone-coated metal shingles also have granules. The granules are there as the first line of defense for shingles. They protect your shingles, be it asphalt or steel, from rain, hail, snow, UV, etc. If you're shingles are missing these granules, your shingles are now vulnerable to these elements.
So, if your asphalt or metal shingles are missing granules, it's time for a roof replacement.
The Bottom Line
Neighbors replacing their roof, a roof coming of age, cracked or curled asphalt shingles, any missing roofing material, extensive hail damage, missing granules – these are signs it's time for a roof replacement in Fort Collins. If you see any of this, contact us for a free inspection and estimate. If your roof is damaged, even only slightly, if ignored, it will get worse, and more costly. The sooner you catch it and get it fixed, the less it will cost, and the sooner you can rest easy.