3-tab vs architectural shingles – are architectural shingles worth the additional cost
For a lot of home and business owners, most purchases come down to cost. This includes roofing shingles. Although 3-tab shingles are the least expensive, they are not necessarily the best value, or the best "bang for your buck", as they say. What's more, they are not the most popular, and for a good reason.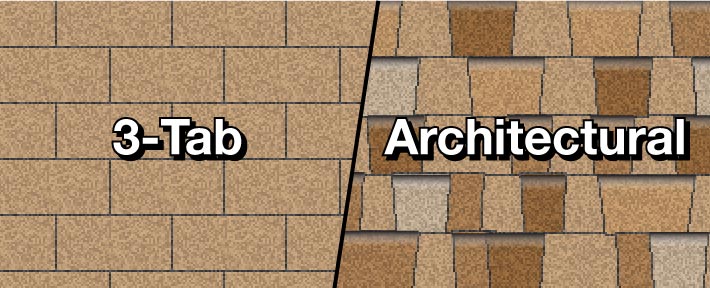 If you're considering 3-tab shingles just to save a little money, you should consider architectural shingles (also known as dimensional shingles), such as Owens Corning's "Oakridge" or GAF's "Timberline AH". For not much more money, you get a shingle that has a higher wind resistance, a longer wind warranty, and an overall lifetime warranty, and these are huge upgrades!
3-Tab Shingles
Consider your entry-level 3-tab roofing shingle on a 2500 square-foot roof. That will cost you around $7,900, materials and labor. This shingle either doesn't have a wind rating, such as GAF's "Royal Sovereign", or is rated for only 60 mph winds, such as Owens Corning's "Supreme".
Architectural Shingles
Compare that to Owens Corning's least expensive architectural "Oakridge", or GAF's "Timberline AH", which both have 130mph wind ratings and limited life-time warranties. For that same 2500 square foot roof, you can get into architectural shingles for just a few hundred dollars more.
The price difference between your basic 3-tab shingles and entry-level architectural shingles is minimal. $7,900 vs $8,200, respectively. The benefits, however, are great. Here along the Front Range, it's not uncommon to see wind gusts above 60 mph. Just this past June, gusts between 50 and 70 mph were reported by CBS Denver.
Warranties
Most 3-tab shingles only come with a 25-year warranty. With 25-year warranties, your roof is not covered beyond 25 years. If you have a problem with your 26 year old roof, for example, it's up to you to fix it and pay for it.
Most architectural shingles, on the other hand, come with Limited Lifetime Warranties. These warranties are in effect for as long as you own your home. If anything goes wrong with your roof, you have someone to call for help.
High Winds
With 25-year warranties, damages or blow-offs caused by 60+ mph winds are your responsibility to repair or replace, and pay for it. The length of wind protection is also shorter with 25-year limited warranties at often only 5 years.
Compared to Limited Lifetime Warranties, the wind warranty length is often 15 years or more. And, if winds were recorded to have been over 60 mph, but under 130 mph, you have help available to repair, replace, and pay for the damages.
Summary
So, are architectural/dimensional shingles worth the additional cost to you? For just a few hundred dollars more than your entry-level 3-tab shingles, you get a lifetime warranty, twice or three times the wind warranty length, and twice the wind speed protection. And, if you're trying to sell your house, prospective buyers will also notice and appreciate the longer warranties and coverage 🙂