Should you replace your roof before selling your home
If you're getting ready to move or list your home, you might be wondering if you should replace your roof before selling it. After all, among the first things people see as they either approach your home, or view it on-line, is the roof. If your roof has obvious damage, such as curled or cracked shingles, prospective buyers will notice it and probably look at the next house.
How do you know if you should replace your roof before selling your home?
Quick answer: If it's worn-out. If your roof is worn-out, and you plan on putting your home on the market, you should replace it. A worn-out roof will delay the selling of your home, attract fewer buyers, and drag-out the selling process.
How to tell if your roof is worn-out
1. If there's obvious damage to your roof, such as curled shingles, or 2. if it has less than 2 years of life left in it.
How to determine if there's 2 years or less of life left in your roof?
One way to determine this is to find out when it was installed and what quality of roofing product was used. For example, if you have asphalt shingles and they were installed 18 years ago, and they are of average quality, they are almost certainly at the end of their life.
Other signs you need to repair or replace your roof before selling your home include cracked, curled, or missing shingles, shingles with obvious hail damage, missing granules, and leaks.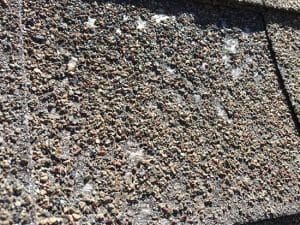 However, what if your roof doesn't have obvious signs it's worn-out?
If your roof doesn't have obvious damage to it, or you are unsure how old it is, have your roof inspected. Most professional roofing companies, such as ours, will inspect a roof free of charge. In addition, we will tell you the condition of your roof. If it's good-to-go, we'll let you know. If we see any damage, we will let you know that, too.
Will you get your money back if you replace your roof?
Don't expect to get all of it back. According to this 2019 Cost vs Value Report, homeowners that installed mid-grade asphalt shingles recouped 68.2% of their new roof investment. However, don't let this stop you from replacing a worn-out roof…
If you don't replace your worn-out roof before selling your home, you can expect:
fewer offers,
reduced price offers,
and a longer sale process.
If you don't replace your damaged roof, it will be reflected in the appraisal, and the real estate agent and potential buyers will see it. If you ignore the appraisal and list your home as if it has a good roof on it, the prospective buyers will more than likely ask for a price reduction so they can have the roof replaced. It's best to have everything in and on your home in good shape so when you put your home on the market, it sells quickly and effortlessly. Your real estate agent can help you with pricing your home competitively. If you don't have an agent, we recommend June Lemmings. We've known, and worked with, June for several years. We enjoy working with her because she's professional, respectful, punctual, honest, and goes above and beyond to make sure her clients are happy.


Phone: 970.573.5791
Email: June@JunesTeam.com
What are the advantages of replacing your roof before selling your home?
If your roof needs to be replaced, the advantages of replacing it before your house is photographed and listed are plenty. For one, you will get more offers. More people want to buy a house that's move-in ready than one that needs work, and that includes a roof replacement. What's more, the less work your house needs, such as a roof replacement, the faster the sale process is once you have a serious buyer on the hook. In addition, if you're replaced that worn out roof, you have a better change of receiving your asking price.
Assuming your roof needs to be replaced, which roofing material should you choose?
This can be a bit of a balancing act. The roofing material you choose depends upon how much you want to spend, current trends, and weather in your area. If you live in an area that is exposed to extreme weather, such as high winds and hail, you should consider a roofing product that is resistant to these conditions as it will be more appealing to prospective buyers. If the trend in your neighborhood is to have shingles, you should consider following that trend and also install shingles (asphalt or metal). A more expensive roofing product often lasts longer, and prospective buyers notice this. Prospective buyers want a home that is move-in ready and one that will last. You don't want to price your home out of your local market, however, so do consult with your real estate agent before making a decision.
Conclusion:
Replacing your roof before selling your home, if it's worn-out, is a good thing to do. Even if you only install an average roofing product, such as mid-grade shingles. The selling process will be less of a hassle, go faster, and there's a better chance you'll receive your asking price if you've priced it at the appraisal value.