There are more flat roofing options available today then ever before, for both commercial and residential. More colors to choose, better products, faster installation. And, when your flat roof is installed by Bob Behrends Roofing, it often lasts longer because of a proper and professional installation. When you're ready for an estimate, let us know. Estimates are free, and so are inspections.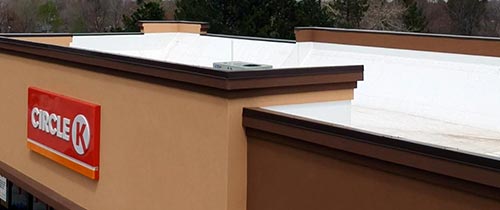 Contact us today for a free new flat roof estimate.
Flat Roof Options
Flat roofing options from Bob Behrends Roofing include PVC, TPO, EPDM, and Modified Bitumen. PVC is the only choice for restaurants since it's resistant to animal fat and grease expelled from vents in the kitchen. For small delicatessens, bakeries, and the like, contact us for our recommendation, and a free inspection and estimate. PVC comes in a small variety of colors today, such as white, tan, and gray. White and tan are Energy Star rated and can help lower your Summer cooling bill. Our PVC is polyester reinforced. This makes it very durable and resistant to hail and punctures. You can expect a PVC roof to last around 20 years if properly installed, and regularly inspected and maintained.
TPO is a great choice for commercial buildings, such as warehouses, manufacturing, and department stores. Office buildings, medical and dental offices, condominiums, hotels and motels are also great candidates for our TPO membranes. Depending upon which exact TPO product is ordered, up to 8 colors are available. White and tan are Enery Star rated. Because TPO contains no plasticizers, it is considered a more 'green' roofing product. All of our TPO membranes are polyester-reinforced, which makes it highly resistant to punctures and hail. If properly installed and regularly maintained, you should get around 25 years out of your TPO roof.
EPDM, also known as a rubber roof, is often installed onto residential flat roofs, such as home additions and garages. Of course, it can be used on any commercial roof as long as no cooking is done inside the building. Oddly enough, it is among the least expensive of our flat roof membranes, yet lasts among the longest at around 30 years. Although a rubber roof is naturally black, a white layer can be added to help reflect heat away from your building. This, in turn, helps to lower your Summer cooling bill. Because EPDM is essentially rubber, it's naturally resistant to hail and punctures.
Think of Modified Bitumen, known in the industry as simply ModBit, as a large asphalt shingle and a roll. It's flexible and comes in a wide variety of colors to match popular asphalt shingle colors. However, it is only to be used on low-slope/flat roofs. It is the shortest lived and the least expensive among our flat roofing membranes.
Commercial Flat Roof Installation and Repair
When looking for a professional, Colorado flat roof installation, look no further then Bob Behrends Roofing. We have a dedicated flat roofing crew that only installs and repairs single-ply membranes. Our crew knows everything there is to know about installing and repairing single-ply membranes, flashing, proper drainage, potential problems to look for, etc.
Not every single-ply membrane is installed the same way and every flat roof is different. With over 30 years experience installing and repairing single-ply membranes, we have the knowledge and skill to professionally install, maintain, and repair your flat roof to ensure it lasts as long as possible. And, we back our work with our 5-year workmanship warranty.
We are qualified installers of Versico, Mulehide, Genflex, John Mansville, and IB Roof Systems. This allows us to offer 10, 15, and 20-year labor and material warranties on all flat roofing jobs. What's more, because we often purchase in bulk from our suppliers, we get special bulk pricing that other commercial roofing companies can't compete with. As a result, we pass this savings onto you.
Residential Flat Roofing
Residential flat roofing only differs from commercial flat roofing in that it's for non-commercial use. Both are installed onto seemingly flat roofs. That is, low-sloped roofs. Single-ply membranes usually used on commercial buildings can be used in residential applications, such as on homes and garages, as long as the roof's pitch is correct. We've installed single-ply membranes, such as those listed above, onto homes, apartment buildings, residential garages, home additions, and more. The most common residential single-ply membranes are EPDM and Modified Bitumen.
Advantages and Disadvantages
Even the longest lasting single-ply roofing membrane, EPDM, doesn't last as long as longest lasting steep-slope roofing material, metal. Price-wise, single-ply membranes fit right in the middle of steep-slope roofing materials:
Shingles: $3.40/sf
Modified Bitumen: $4.25/sf
EPDM: $5.50/sf
TPO: $7.00/sf
PVC: $8.50/sf
Metal: $9.50/sf
Tile: $11/sf
If you have two roofs with the same square footage; one flat and one steep, single-ply membranes are easier and faster to install than steep-slope materials since you basically unroll the membranes. Versus asphalt shingle, stone-coated shingles, or tiles are physically smaller and are installed one shingle or tile at a time.
It's easier to install heavy equipment onto flat roofs, such as air conditioners and heat pumps. Obviously it's easier to walk on a flat roof compared to a steep roof.