Single Membrane Roofs
Many commercial buildings in Colorado use a single-ply roofing membrane, and some residential buildings may use singly-ply for carports, patios, or additions. At Bob Behrends Roofing, we offer the following single-ply systems for installation and repair:
PVC
PVC (polyvinyl chloride) is a type of plastic. PVC roofs are also called vinyl roofs. Many restaurants use a PVC roof because it is the most resistant to grease and animal fat buildup. Our installation experts here in Colorado use single-ply PVC roofing for a variety of buildings. This roofing system is also durable in harsh weather, is fire-resistant, reflective, lightweight, and the material can be recycled. PVC roofs are also very affordable.

TPO
Our Colorado single-ply TPO roofing systems are a popular choice for many commercial buildings, but isn't recommended for restaurants. TPO (thermoplastic polyolefin) is a reflective membrane that is made from polymer and rubber. TPO roofing systems are very durable, and typically last up to 20 to 30 years. TPO membrane is cooler in the summer because it reflects heat. This is an affordable option for most commercial roofs. Another benefit of TPO is it is considered "Green" because it's non-toxic, non-hazardous, has no added plasticizers, and is 100% recyclable.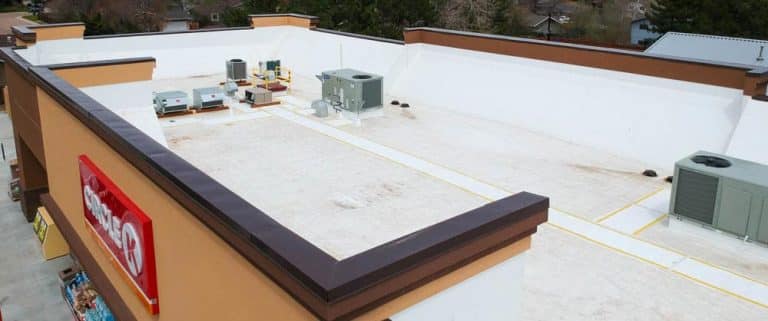 EPDM
EPDM (ethylene propylene diene monomer) is known as the "rubber roof." This very durable membrane is often used on low-slope commercial buildings, and also on residential patios and carports. EPDM roofs are known for their durability and strength, and for their fire resistance. Often these rubber roofs are coated with a white layer, which minimizes heat absorption by reflecting sunlight.
Bob Behrends Roofing has extensive experience and skills installing Colorado's single-ply roofing systems, whether it be EPDM, TPO, or PVC. You can count on us to be reliable and on time, and to get the job done right. We also offer a 5-year guarantee on our workmanship that comes with any of our roofing services, in addition to the manufacturer's guarantee on the quality of the products. If you would like more information about our single-ply membrane roofing systems, contact Bob Behrends Roofing today!