---
Quick Answer: The best alternative to a wood shake roof is stone-coated metal shingles since they resemble real wood shake the best, are recyclable, light-weight, and long-lasting.
---
Your current wood shake roof is worn-out and needs replacing, and you're wondering what the best alternative is. Maybe even an alternative that's also environmentally-friendly. After-all, one of the reasons you probably got a wood shake roof was because it's eco-friendly. Or perhaps you're looking for a roof that lasts longer or is less expensive than real wood. You're in luck. Today, you have more options than before to consider. But there's one clear winner 😉
Although there are some advantages to a wood shake roof, there are some disadvantages – because they're made from wood, they are flammable. Wood shake is also expensive. On average, a wood shake roof costs twice as much as your mid-grade asphalt shingles. Wood shake has a short life span, at around 15 years. They are high maintenance, and are susceptible to mold, rot, and insects.
Wood Shake Roof Alternatives
Most folks that buy a wood shake roof do so because they're environmentally conscience – they want a natural roofing product that's recyclable. In addition, they like the appearance of natural wood. Therefore, the best wood shake roof alternatives are also those that are natural looking and environmentally-friendly. With those requirements in mind, you have three options available to you today – asphalt shingles, concrete tiles, and stone-coated steel shingles.
Asphalt Shingles
Asphalt shingles are the most popular roofing material. Several manufacturers offer products that do a decent job of resembling real wood shake. Owens Corning has their Woodcrest and Woodmoor line of asphalt shingles. GAF has their Grand Canyon, Grand Sequoia, and Grand Sequoia AS line. CertainTeed has their Presidential Shake, Presidential Shake TL, and Presidential Shake IR shingles. Asphalt shingles from these manufacturers somewhat resemble wood shake.
On average, your mid-grade asphalt shingles last around 25 years. This is comparable to wood shake. We recently replaced a Greeley resident's 15-year old wood shake roof. The problem with asphalt shingles, however, is that they are not recyclable in our area. Asphalt shingles, however, look the least like wood shake, compared to other alternatives on this list. The good thing about asphalt shingles, is that they are less expensive than wood shake, which is why they're in this list.
Concrete Tiles
Today's concrete tiles strongly resemble real wood shake. In fact, if appearance is your most important factor, concrete tiles are it. Westlake Royal Roofing's Madera 900, for example, even up-close, looks the most like real wood shake. Concrete tiles have a low solar reflectivity, however, which makes them not the coolest roofing material. Concrete is recyclable, therefore, they are environmentally friendly. A concrete tile roof is among the most expensive roofing material. For a small, simple 28′ x 46′ roof, expect to pay at least $15,000. Concrete tile roofing is very durable and long-lasting. You can expect your new tile roof to last between 50 and 75 years, if professionally installed. Therefore, over the long run, it can cost less than some lesser expensive roofing material. Concrete tile roofing is fire-proof and high-wind resistant.
NOTE: Clay tile doesn't resemble real wood shake, so we are intentionally leaving this product out of our list.
Stone-Coated Steel Shingles
Another alternative to real wood shake roofing is stone-coated steel shingles. Stone-coated metal shingles look more like wood shake than asphalt shingles, but not as good as concrete tiles do. Decra has their Shake XD metal shingle. Westlake Royal Roofing has their Pine-Crest Shake steel shingle. Checkout this stone-coated steel roof we installed for a client in Greeley.
Another nice thing about steel shingles is that they last so much longer than wood shake. A wood shake roof here in Colorado lasts between 15 and 25 years. Steel shingles often last 70 years or more. Let's say you're a new, young homeowner and you put new stone-coated steel shingles on your roof. You might not ever replace your roof in your lifetime. How does that sound? If longevity is your primary factor in a wood shake replacement, metal shingles is it. And, given that steel shingles only cost a little more than wood shake, you get a lot more bang for your buck than wood shake.
Steel shingles are considered green since they are recyclable. We've identified metal recycling centers in Greeley, Fort Collins, and the Denver area. As of the time of this writing, there are not any asphalt shingle recycling centers in our Northern Colorado area.
Stone-coated steel shingles are much more durable than wood shake, or asphalt shingles. Steel shingles withstand hail better than wood shake or traditional asphalt shingles. When large hail stones hit wood shake, the shake shingles crack. Not so with steel shingles. Unlike wood shake, steel shingles are not susceptible to rot, mold, or insects. To resist mold, rot, and insects, wood shake needs regular maintenance. Steel shingles do not.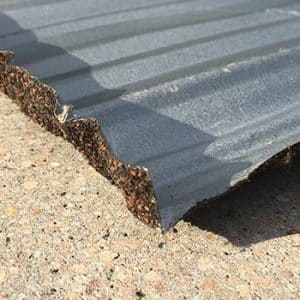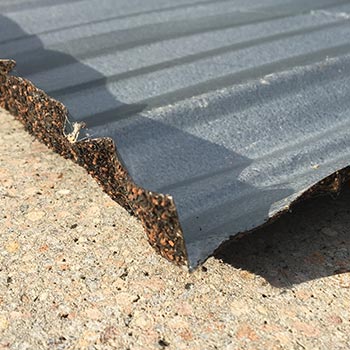 Steel shingles only cost a little more than wood shake. On a small 28′ x 46′ roof, you can expect to pay at least $10,000 for wood shake. Steel shingles, on the other hand, only cost a few thousand dollars more. And, again, last 3 or 4 times as long as wood shake.
Wood is naturally combustible. Metal is not. That's why metal is naturally fire-resistant. This is important to us Coloradans, given our lower humidity and strong winds. Our great state is already prone to wild fires. Your roof has a better chance or surviving a fire with a metal roof compared to wood shake.
Lastly, white stone-coated metal shingles are much cooler than asphalt shingles. Westlake's Barrel-Vault Tile in Dover (white) has a reflectivity of .41. Wood shake is between .30 and .39. Even the most energy efficient asphalt shingles only have a reflectivity of .15 to .25.
The Bottom Line
When looking for the best alternative to wood shake roof, one needs to determine what's important. Do you want a roofing product that looks most like wood shake, do you want one that lasts the longest, do you want the least expensive, or do you want one that's environmental-friendly? The one that looks the closest to wood shake is stone-coated metal shingles. If you want the cheapest, go with asphalt shingles. The most environmentally-friendly roof is concrete tiles or metal shingles. If you want the one that lasts the longest, any metal roofing product is what you want.
When you're ready for a new metal roof, be it stone-coated or metal panels, look no further than Bob Behrends Roofing. We have a dedicated residential roofing crew, and are licensed and insured in the great state of Colorado. We provide free, no-obligation roof inspections and estimates.